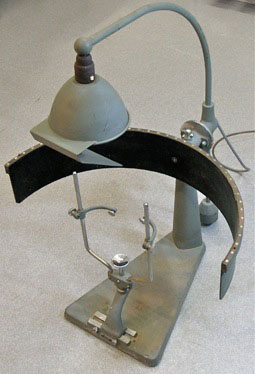 Sub-Category:
Perimeter, visual field analyser
Year Of Publication/Manufacture:
c 1955
Time Period:
1940 to 1999
Publisher/Manufacturer:
Australian Optical Company Ltd
Description Of Item:
Austral arc perimeter, metal, with base, chin and head rest, rotating half arc with angular scales for rotation of the arc and extent along the half arc, overhead lamp and mains supply power cord. Plate on front edge of base reading ' AUSTRAL / MADE BY / AUSTRALIAN OPTICAL CO. LTD '
Historical Significance:
An arc perimeter is used to measure the angle of extent of the patient's visual field by moving targets along the arc until they can no longer be seen and recording the result. Albrecht Von Graefe introduced perimetry to clinical practice in 1855 and Hermann Aubert and Richard Forster introduced the arc perimeter a few years later. Testing of visual fields did not become an important part of optometric practice in Australia until the second half of the 20th century. Even then optometrists favoured the Bjerrum screen for testing central fields and few optometrists had an arc perimeter. For this reason the Kett Optometry Museum does not have many examples of perimeters from earlier years (See Cat No 1898 for a hand held arc perimeter, although this one was donated by the BOA Museum in London and did not come from an Australian optometric practice). This full-size table top arc perimeter is the first acquired by the Museum. It was owned originally by Henry (Hank) Horsfall who qualified in optometry at the Australian College of Optometry in 1953. He set up a new optometry practice in Echuca, Victoria, and would have been one of the first Australian optometrists to have an arc perimeter in his practice. The maker, the Australian Optical Company, was founded in 1928 by Lawrence Dickens Colechin (1895-1951), an optometrist who trained with E Wood in Melbourne. However, he did not register as an optometrist in Victoria when registration was first required at law for the practice of optometry. He had previously established the Victorian Optical Company Pty Ltd in 1921. Branches of its successor company, the Australian Optical Company, were established in Perth (1928), Brisbane (1931), Adelaide (1933) and Townsville (1935). During the Second World War (1939-1945) the company made optical instruments including those for use in war and its own precision lens grinding machinery. The Company was delisted in 1956 in which year it was taken over by Australian Optical Holdings, renamed International Optical Corporation in 1970, and under the control of Sydney optometrist, Penrhyn Thomas (1918-2010) this company shifted to making contact lenses. It was delisted in 2015.
How Acquired:
Donated by Bryan Fuller, member of the College (Horsfalls Optometrists Echuca)
Condition:
Good, enamel chipped and some rust especially on the arc