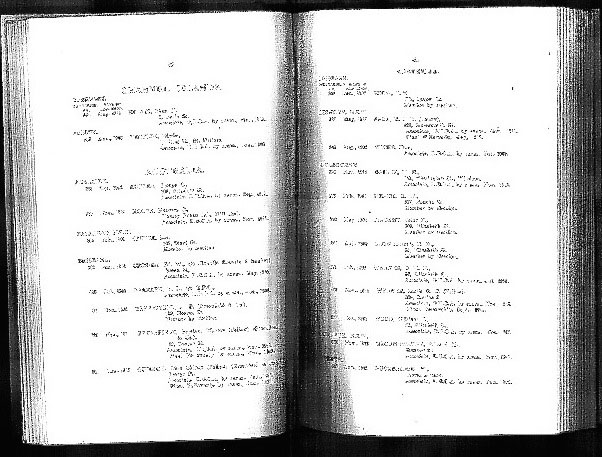 Extract from the Register of Fellows and members of the British Optical Association showing those from Australia and New Zealand
Sub-Category:
Optometry Association papers, reports
Time Period:
1900 to 1939
Place Of Publication/Manufacture:
London
Publisher/Manufacturer:
British Optical Association
Description Of Item:
Three A4 pages being a print-out of a scan of pages 82 to 87 of the register of Members and Fellows who were admitted to the British Optical Association in the period 1895 to 1913 and who were from Australia or New Zealand. They are listed alphabetically within city of residence.
Historical Significance:
The British Optical Association was founded in 1895 and offered examinations for Associate (DBOA) and Fellowship (FBOA) from 1898. The much older Worshipful Company of Spectacle makers, founded in 1629, also offered examinations for Fellowship (FSMC) for the first time in 1898. A number of Australian optometrists travelled to London to sit the examinations and obtain a qualification. This document lists those optometrists from Australia (and New Zealand) who did this through the British Optical Association (BOA). There are 35 Australian optometrists listed as members/associates/fellows of the BOA for the period 1895 to 1913. There are 14 New Zealanders. Of the Australians, only 4 are listed as being Fellows (FBOA), 17 as Associates by examination and 14 are listed as 'Members by Election'. It is noteworthy that Brisbane optometrist AP Greenfield, a prominent optometrist of the day, became a foundation member by election in 1895 . He was a Vice-President of the first Australian Optical Association established in Sydney in 1904. Later he was elected President of the Queensland Institute of Opticians in 1909, a year after it was founded. He also represented Queensland at the conference in 1918 that founded the Australasian Optonetrical Association. The convenor of the Sydney based Association, a Mr H Sanderson, is listed n the BOA Register as becoming a member by election in 1899. Its foundation Secretary, Arthur Cocks (later Sir Arthur), is listed as becoming a Member by Election in 1909. Carl Werner, originally from Ballarat and later Melbourne, became an Associate by examination of the BOA in 1898 and the same year qualified for Fellowship of the Spectacle Markers Company (FSMC), and was issued with certificate number 1. His son Leslie is on the list as having qualified FBOA in 1912. See Cole BL. A History of Australian Optometry 2015 for more details.
How Acquired:
Donated by College of Optometrists London
Location:
Archive office. Pamphlet and ephemera filing cabinet. Drawer 7