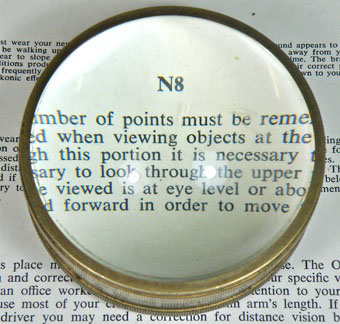 Category:
Spectacles and lenses
Sub-Category:
Low vision aid
Designer/inventor:
Georg Jaekel
Year Of Publication/Manufacture:
c 1936
Time Period:
1900 to 1939
Place Of Publication/Manufacture:
Berlin
Publisher/Manufacturer:
Sendlinger Optischen Glaswerke
Description Of Item:
Visolett optical magnifier, 76 mm in diameter, circular brass base, 28 mm high, with two milled bands on the outside surface, holding a 52 mm thick plano-convex lens. Inscribed inside the brass base but visible through the lens ' Visolett - D.R.P. der sendlinger optischen Glaswerke Berlin'. It is contained in cardboard case with a hinged lid and a velvet lined tray within it. The case is much damaged - two thirds of the lid is missing and one of the corners of the case in broken.
Historical Significance:
The Visolett dome magnifier is a clever piece of optical design. Its plano surface lies directly on the material to be magnified and provides a magnification of 2.5 x with a wide field of view without curvature of field or other impeding aberrations. The upper convex surface and lens thickness provide the optical power for magnification and the domed convex surface refracts light from all directions onto the surface being magnified. This means the surface being magnified is well illuminated from external ambient light without the need for an internal source of artificial illumination and illumination is not impeded by the shadow of the user. It was invented by Georg Jaekel of Berlin-Zehlendorf, Germany with the rights assigned to the Sendlinger Optische Glaswerke G. m. b. H, Berlin-Zehlendorf, German Application June 1 , 1933 (German Patent No. 622 601) and was patented in the USA on December 31 1935. (US Patent 2026176 A). It was known in Australia 1936. William Kett wrote about it in Aust J Optom (October 30 1936: 482-483) and it was sold at that time through Mr. R. Gunz, 33 Macquarie Place. Sydney. There is a booklet published by Sendlinger Optischen Glaswerke, titled 'Die Visolett-Lupen vergrossern - erhellen das... - Buch gebraucht kaufen' published in 1939. Sendlinger Optischen Glaswerke was an optical glass maker in Munich but was taken over by C. P. Goerz of Berlin in 1910. C. P. Goerz was a renowned maker of binoculars and cameras. It was founded in 1886 by Carl Paul Goerz and flourished and expanded in other countries until about 1920. Its branch in New York became C.P. Goerz American Optical Company in 1905. In C.P. Goerz ran into financial difficulties and merged with Carl Zeiss to form Zeiss Ikon, and Zeiss soon gained control. This is an early version of the Visolett but the Visolett concept and the name survive to the present day, made now by other companies but with a plastic base rather than a brass one, making it much lighter, and is produced in a range of diameters. It is a very useful low vision aid, (See Fonda G. Visolett magnifier. Evaluation and optics. Arch Ophthalmol 1976; 94: 1614-1615.) but is also used in the textile industry for measuring and counting threads.
How Acquired:
Donated by Alan Isaacs, honorary life member of the College
Condition:
Magnifier good except for light scratches on the optical surfaces; case badly damaged
Location:
Archive room. West wall. Unit 5 Drawer 2