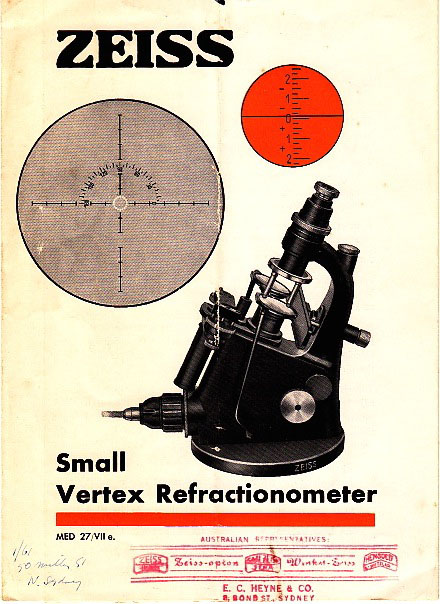 Instruction brochure for the Zeiss small vertex refractionometer
Sub-Category:
Ophthalmic product manual/instructions
Year Of Publication/Manufacture:
c 1955
Place Of Publication/Manufacture:
Germany
Publisher/Manufacturer:
Carl Zeiss Jena
Description Of Item:
Two fold leaflet, 150 x 210 mm when folded, 6 pages, being the instructions for use of the Zeiss small vertex focimeter (syn: lensmeter, vertometer), illustrated, stamped on front page 'AUSTRALIAN REPRESENTATIVES / E. C. HEYNE & CO / 2 BOND ST SYDNEY '
Historical Significance:
Carl Zeiss produced its first focimeter in 1915. See Cat No. 1905 and 2110 for examples from the 1930s. This model was first produced about 1955 and was in common use in Australia. See Cat No 2305 for an example.
How Acquired:
Donated by Alan Isaacs, honorary life member
Location:
Archive office. Pamphlet and ephemera filing cabinet. Drawer 7