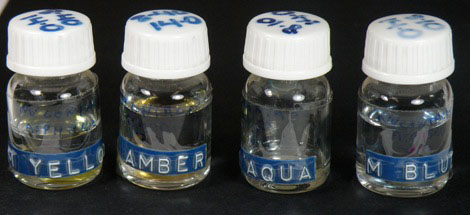 NuContacts Aspheric Tinted Soft Contact Lens Trial Set
Category:
Spectacles and lenses
Sub-Category:
Contact lenses and accessories
Corporation:
NuContacts Pty Ltd
Year Of Publication/Manufacture:
c 1980
Time Period:
1940 to 1999
Place Of Publication/Manufacture:
Adelaide, South Australia
Publisher/Manufacturer:
NuContacts Pty Ltd
Description Of Item:
Four White Capped Vials 40 mm high and diameter 22 mm each containing one tinted soft contact lens. Caps have base curve and diameter of lens hand-written in blue on the top. Vials are NuContacts Aspheric and -3.00 hand-written in blue and the lens tint is denoted on a white on blue 'Dymo' label. Parameters are 8.10/14.0 and 8.40/14.0. Tints are Mid Aqua, Mid Blue, Mid Amber and Mid Yellow.
Historical Significance:
Nu contacts Pty Ltd was a contact lens laboratory set up by Chris Harous which later became part of CooperVision Hydron. These trial lenses represent samples distributed soon after production began.
How Acquired:
Donated by Colin Bates
Date Acquired:
16/01/2013
Location:
Archive Office. Cabinet One Drawer 16