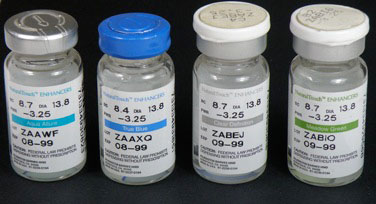 Natural Touch Enhancers Tinted Soft Contact Lens Trial Set
Category:
Spectacles and lenses
Sub-Category:
Contact lenses and accessories
Corporation:
Pilkington Barnes Hind
Year Of Publication/Manufacture:
c 1996
Time Period:
1940 to 1999
Place Of Publication/Manufacture:
Sunnyvale, California, USA
Publisher/Manufacturer:
Pilkington Barnes Hind
Description Of Item:
four metal capped vials 52 mm high and 22 mm diameter each containing an opaque tinted soft contact lens. Lenses are all 13.8 mm diameter, one with base curve 8.4 and true Blue tint, three with base curve 8.7 and with tints labelled as Meadow Green, Aqua Allure and Clear definition. Two vials have the original plastic an metal cap, two have been resealed with metal cap only. Expiry dates 08/99 and 09/99.
Historical Significance:
Natural Touch Enhancers were a hybrid of transparent tinted lenses and opaque tinted lenses. he colour was transparent with an opaque black stippled ring designed to high light the iris margin. The Clear Definition lens has the black ring only.
How Acquired:
Donated by Colin Bates
Date Acquired:
16/01/2013
Location:
Archive Office. Cabinet One Drawer 16