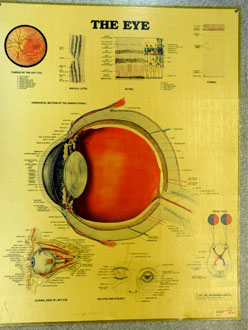 The eye. Chart for patient explanations and teaching
Category:
Memorabilia and ephemera
Sub-Category:
Advertising, trade and products
Editor:
JACOBSON, William Jr
Year Of Publication/Manufacture:
1986
Time Period:
1940 to 1999
Place Of Publication/Manufacture:
Chicago, Illinois
Publisher/Manufacturer:
Anatomical Chart Co
Description Of Item:
Chart of the anatomy of the eye. 515 x 670 mm, laminated transparent plastic covering, for the purpose of providing explanations to patients or for teaching students.
How Acquired:
Donated by David Glennie, Karingal Optical
Location:
Archive room. West wall. Unit 4 Drawer 2