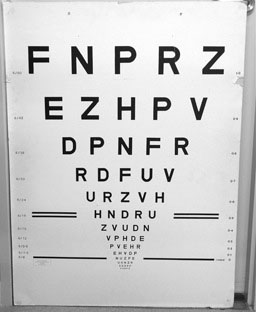 LogMAR 6 m visual acuity chart
Sub-Category:
Visual Acuity, Contrast sensitivity tests
Year Of Publication/Manufacture:
1975
Time Period:
1940 to 1999
Place Of Publication/Manufacture:
Melbourne
Publisher/Manufacturer:
National Vision Research Institute of Australia
Description Of Item:
Original Bailey-Lovie LogMAR letter chart for measuring visual acuity, black letters printed on white card, 760 x 1020 mm, 14 rows of letters of diminishing size in log 0.1 steps of progression of letter size from logMAR 1.0 (6/60) to logMAR -0.3, 5 equi-legible letters on each line with line and letter spacing proportional to letter size. LogMAR scale on right and Snellen equivalent scale on left. Box at bottom left enclosing the words ' BAILEY-LOVIE CHART / National Vision Research Institute / of Australia / Copyright 1975 ' This copy was probably printed from the original negative by the NVRI in 1976 (Personal communication: Ian Bailey 4/12/15)
Historical Significance:
This is one of the original logMAR charts devised by Ian Bailey and Jan Lovie in the National Vision Research Institute of Australia in the course of the first research project of the NVRI, which began in 1974 and led by Ian Bailey, as senior research officer. He was one of five students who had graduated with a BAppSc(Optom) in 1962, the second cohort to obtainthe then new degree in optometry in the University of Melbourne. Bailey practised optometry for two years before heading to Europe in December 1964 to see the world. There he qualified for the Higher Diploma of the Fellowship of the British Optical Association and concentrated particularly on contact lens practice, then just emerging as a core part of optometric practice. He joined the Australian College of Optometry as lecturer and Clinic Administrator in 1968. He was the leading person in the setting up the Kooyong Low Vision Clinic in 1972. This was an outstanding success and ignited his life-long interest in low vision. In order to pursue his then newfound interest in low vision, he applied to the National Health and Medical Research Council for a research grant, which he got and which included his own salary. He could now give the flick to his impossibly demanding job in the Australian College of Optometry and give his time to pursuing ideas. He took his project into the brand new but empty National Vision Research Institute. This first project was right in the heartland of optometric interest. It investigated visual performance and optometric management of patients with severe visual handicap caused by age-related macular degeneration. He recruited young Melbourne optometrist, Jan Lovie, as a graduate student and collaborator on the project. One of their outputs of this first project was the development of the Bailey-Lovie LogMAR system for measurement of visual acuity that was to become the foundation for the international standard for measurement of visual acuity. The paper published in 1976 (Bailey IL, Lovie JE. New design principles for visual acuity letter charts. Am J Optom Physiol Opt. 1976; 53: 740-745.) still gets about 25 citations a year. This was a brilliant start for the National Vision Research Institute. His biography is published in Clin Exp Optom 2004; 87: 37-41 and is also on this web site under the tab 'People who made history'.
How Acquired:
Donated by Australian College of Optometry
Condition:
Fair. Two holes in card near top, edges slightly battered and surface of card torn on right
Location:
Archive room. North wall slat board