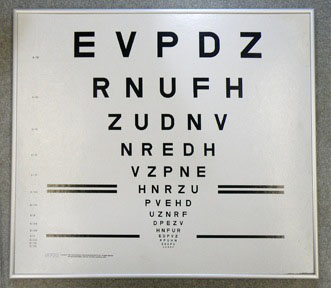 Sub-Category:
Visual Acuity, Contrast sensitivity tests
Year Of Publication/Manufacture:
1995
Time Period:
1940 to 1999
Place Of Publication/Manufacture:
Melbourne
Publisher/Manufacturer:
National Vision Research Institute of Australia (NVRI)
Description Of Item:
Three metre LogMAR chart for measuring visual acuity, aluminium frame 530 x 470 mm, black letters printed on white card, 14 rows of letters of diminishing size in log 0.1 steps of progression of letter size from Snellen equivalent of 6/30 to 6/1.5, 5 (at 6 m), equi-legible letters on each line with line and letter spacing proportional to letter size. Snellen equivalent scale on left but no LogMAR scale. At the bottom of the chart are the words ' NVRI / Copyright 1995 National Vision Research Institute All rights reserved / 386 CARDIGAN STREET, CARLTON, VICTORIA, AUSTRALIA 3053'
Historical Significance:
The LogMAR visual acuity chart took the ophthalmic world by storm when it was invented in 1975 (see Bailey IL, Lovie JE. New design principles for visual acuity letter charts. Am J Optom Physiol Opt. 1976; 53: 740-745.), The research behind the development of the LogMAR charts was done by Bailey and Lovie in the National Vision Research Institute of Australia (NVRI). Charts constructed to its principles are now widely adopted, especially in low vision clinics and for clinical trials. The original chart was very large, 750 x 1000 mm, and cut-down less cumbersome versions were devised. The NVRI where the original LogMAR chart was devised produced a number of variants under the leadership of Professor Robert Augusteyn, when he was Director of the NVRI from 1991 to 2001. This 3 metre chart was one of the variants. Others were the Paediatric chart (with symmetrical letters to avoid letter reversal) and the hi-lo contrast chart.
How Acquired:
Donated by Australian College of Optometry
Location:
Archive room. West wall. Unit 4 Drawer 3