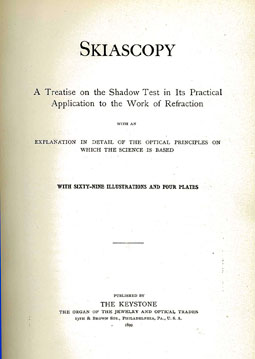 Skiascopy : A Treatise on the shadow test in its practical application to the work of refraction
Sub-Category:
Significant book (Aitken collection)
Author:
Anon. (ROGERS, George A.)
Year Of Publication/Manufacture:
1899
Time Period:
1900 to 1939
Place Of Publication/Manufacture:
Philadelphia
Publisher/Manufacturer:
The Keystone
Description Of Item:
Original navy blue cloth, 221 pages plus 2 unnumbered pages of book adverts.; 230 x 160 mm, 69 illustrations and 4 plates. Old ink stamp for E Wood Opticians, Melb on front fly leaf. 230 mm x 150 mm.
Historical Significance:
"The Keystone" is the organ of the Jewelry and Optical Trades. George Rogers is identified as the author for the second edition 1903 (Cat N0 64), which is not greatly different from this first edition.
How Acquired:
Donated by Ross Harris, honorary life member of the College
Location:
Nathan Library. Aitken collection