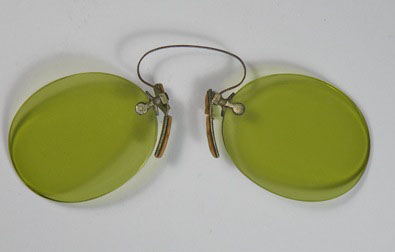 Pince-nez with C bridge and green-tinted wrap-round plano lenses
Category:
Spectacles and lenses
Year Of Publication/Manufacture:
c 1930
Time Period:
1900 to 1939
Description Of Item:
Pince-nez with C spring bridge and double section cork nose pads, glazed with green tinted plano lenses each curved to create a 'wrap around' shape around a vertical axis
Historical Significance:
This pince-nez appears to be intended as sunglasses: the lenses are tinted and plano power and have a wrap-round shape. The date assigned to this item is uncertain. According to John Salt the C spring bridge pince-nez were worn between 1880 and 1940. This pince-nez is most likely from the practice of either Miss H Moody or Mr John Garratt since the donor is the grandson of John Garratt and Moody and Garratt were in practice for a time at the same address in Collins Street in the period 1900 to 1930. Neither were registered optometrists in 1936 when optometrists were for the first time required by law to be registered to practise optometry. This means that this item may date from before 1930 although the novel wrap around lens shape may suggest a later date. Search for Boxshall as donor for other items donated by him and more information about Garratt and Moody.
How Acquired:
Donated by John Boxshall, Carlton
Location:
Archive Office. Spectacles cabinet Drawer 3