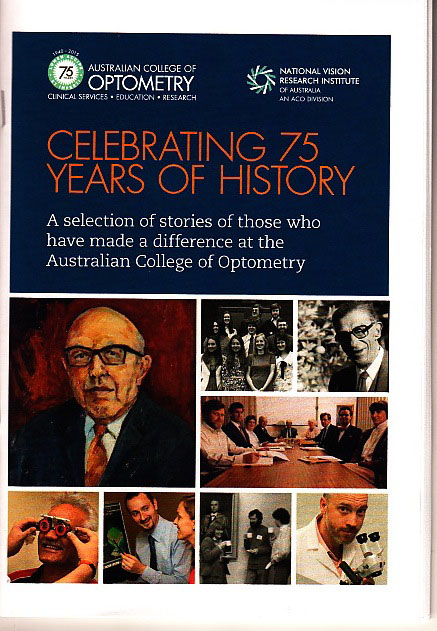 Celebrating 75 years of history. A selection of stories of those who made a difference at the Australian College of Optometry
Year Of Publication/Manufacture:
2015
Place Of Publication/Manufacture:
Melbourne
Publisher/Manufacturer:
Australian College of Optometry
Description Of Item:
Colour printed paper cover, 143 x 211 mm, stapled binding, 51 numbered pages plus a page contents and a foreword by Maureen O' Keefe, CEO of the Australian College of Optometry. Content is 21 short biographies and records of the recollections of former students of the Australian College of Optometry who graduated in the period 1944 to 1976. It also includes remarks of Lady Meriel Wilmot-Wright, who was the Secretary of the College from 1957 to 1961 and who contributed importantly to the College's affairs at that time, and was made an honorary life member of the College on her resignation.
Historical Significance:
This booklet was produced as one of the activities to mark the 75th anniversary of the College in 2015. It was compiled by Nathalie Michel, an administrative employee of the College at the time of publication. The biographies are for Michael Aitken, Ian Bailey, Margaret Banks, Bruce Besley, Ray Blizzard, Barry Clark, David Cockburn, Barry Cole, William Cooper, Wolfgang Gartner, Ian Gutteridge, Ross Harris, Graham Hill, Alan Isaacs, Jan Lovie-Kitchin, John Nathan, Dawn Odgers, Helen Robbins, Kevin Rooney and Gad Trevaks. While much of the information in this booklet is readily available from other more explanatory sources some of the comments provide an insider' view of the early years of the College, especially the comments by the four women who are profiled.
How Acquired:
Commissioned by Australian College of Optometry
Location:
Archive office. Pamphlet and ephemera filing cabinet. Drawer 7