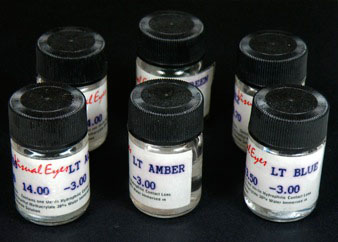 Visual Eyes Soft Contact Lens Trial Set
Category:
Spectacles and lenses
Sub-Category:
Contact lenses and accessories
Year Of Publication/Manufacture:
c 1995
Time Period:
1940 to 1999
Place Of Publication/Manufacture:
Adelaide, South Australia
Description Of Item:
Six vials with black screw caps 37 mm high and 22 mm diameter five of which contain a tinted soft contact lens, the sixth a clear soft contact lens. tint colours are all light: Blue, Green, Aqua, Amber and Brown. All lenses are -3.00 D power. Base curves are in 0.3 mm steps from 8.10 mm to 8.70 mm with diameter 13.50 mm, and 8.40 mm to 9.00 mm with 14.00 mm diameter. Labels have been partially removed to expose lens colours.
Historical Significance:
Soft contact lenses were manufactured in Adelaide by Chris Harous who held various positions in OPSM, Nu Contacts, Hydron, Cooper vision and Sauflon over many years. These lenses possibly predate his involvement in Nu Contacts.
How Acquired:
Donated by Colin Bates
Date Acquired:
16/01/2013
Location:
Archive Office. Cabinet One Drawer 16