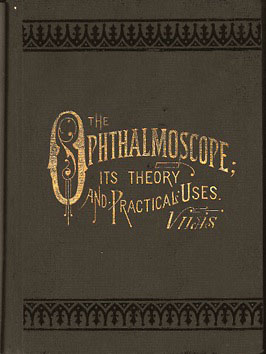 The ophthalmoscope, its theory and practical uses
Sub-Category:
Significant book (Aitken collection)
Author:
VILAS Charles Harrison
Year Of Publication/Manufacture:
1882
Place Of Publication/Manufacture:
Chicago, USA
Publisher/Manufacturer:
Duncan Brothers
Description Of Item:
Original brown cloth covers, 180 x 135 mm, with ornate gilt gill titling on front, 150 pages and 10 unnumbered pages of advertisements for books published by Duncan Bros. Twenty four black and white illustrations in the text. Bookseller label for James W Queen, Philadelphia on the front paste down. Pencil inscription for John A Wilson MPA, Lucas Drive (Chicago?) with the date Feb 2nd (18)85. The preface is dated 1881.
Historical Significance:
Charles Harrison Vilas MA MD (1846-1920) was a Professor of Eye and Ear Diseases at the Hahnemann Medical College in Chicago and Clinical Professor in the Hahnemann Hospital. He later became Dean of the Faculty and President of the College. He had a strong interest in otology and homeopathy as well as ophthalmology. He was President of the Western Academy of Homeopathy and was secretary of the Homeopathic Congress of the United States, which was founded in 1878. This may be the first American book dealing specifically with the ophthalmoscope. It is a rare book not held by the BOA library in London and Worldcat lists only online copies of the book in American universities. There are no original copies available for sale on Abe Books. Vilas wrote several other books as listed on the half-title page, including 'Spectacles and how to choose them' published by Duncan Bros in 1883. It is a companion volume to this book in that their design and binding are the same. The Kett Museum holds a copy of the latter book. (See Cat No 2089).
How Acquired:
Donated by Michael Aitken, honorary archivist
Condition:
Very good. Slight blemishes to cloth
Location:
Nathan Library. Aitken collection