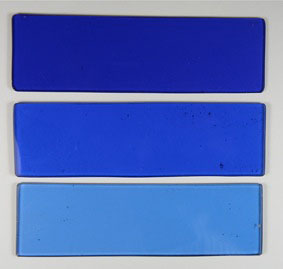 Three samples of blue (cobalt) glass
Category:
Spectacles and lenses
Sub-Category:
Protective eyewear
Time Period:
1900 to 1939
Description Of Item:
Three rectangular plates of blue glass, possibly cobalt glass, 120 x 35 x 2 mm, in three different shades of blue
Historical Significance:
These blue glass samples are probably cobalt glass. Cobalt glass - known as "smalt" - is a deep blue coloured glass prepared by including a cobalt compound, typically cobalt oxide or cobalt carbonate, in a glass melt. Cobalt is a very intense glass colorant and very little is required to show a noticeable amount of colour. Cobalt blue glass is used as an optical filter in flame tests to filter out the yellow flame caused by the contamination of sodium, and for furnace observation. Spectacles from the 19th century often had cobalt blue lenses. See Cat Nos 682 and 683 for examples. Cobalt has been used as a colouring pigment for painting and as a colourant in porcelain thousands of years. The smalt process harks back to the 16th century. These blue glass samples were among a large number of items donated by Mr Boxshall and many of the items were clearly identified as coming from the optometric practices of a Mr Garratt, an optometrist, and Miss Moody, an optometrist who practised from the same address in the period 1902 to at least 1914. Mr Boxshall is the grandson of Mr Garratt. Why these plates of blue glass should be in one of these practices is not clear: they could be for sale for use in observation of flames or furnaces or as examples of the colours available for tinted spectacle lenses.
How Acquired:
Donated by John Boxshall, Canning St Carlton, relative of Ms H Moody & Mr J Garratt, early Victorian optometrists.
Location:
Archive office. East wall shelves unit 3. Drawer 8