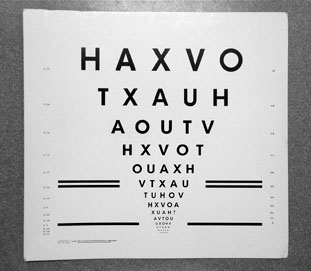 Sub-Category:
Visual Acuity, Contrast sensitivity tests
Institution:
National Vision Research Institute of Australia
Year Of Publication/Manufacture:
1995
Time Period:
1940 to 1999
Place Of Publication/Manufacture:
Melbourne
Publisher/Manufacturer:
National Vision Research Institute of Australia
Description Of Item:
LogMAR letter chart for measuring visual acuity designed for use at a test distance of 3 m, printed on white card 520 x 480 mm, 14 lines of letters, the sizes of which are notated in equivalent 6 m Snellen from 6/1.5 to 6/30 on the left hand side and LogMAR -0.3 to 1.0 on the right hand side. Identified at the bottom as 'NVRI / Copyright 1995 NATIONAL VISION RESEARCH INSTITUTE. All rights reserved / 386 Cardigan Street, Carlton, Victorian, Australia, 3053'
Historical Significance:
The NVRI had developed the LogMAR system of assessing visual acuity and the LogMAR chart in 1975 (See Cat No 2686 and 2735) and it made and sold a range of LogMAR products, various visual acuity charts and near point reading cards. They became an icon of the NVRI and NVRI Director Professor Augusteyn (1991-2001) was a vigourous promoter of them. This is one variant of the LogMAR chart produced during Professor Augusteyn's directorship.
Condition:
Good although edges slightly damaged
Location:
Archive room. West wall. Unit 4 Drawer 3