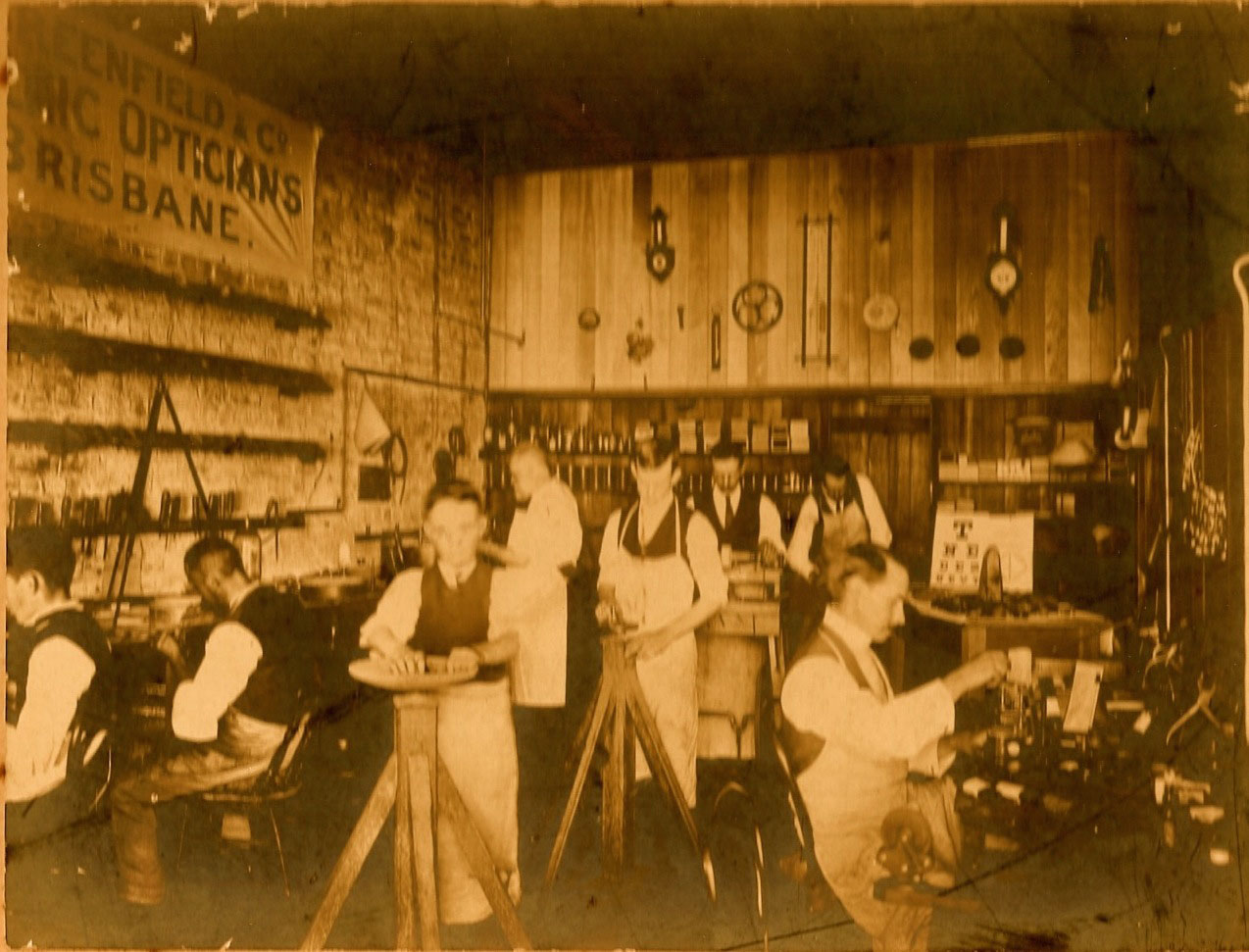 Workshop of A. P. Greenfield, Brisbane optometrist
Sub-Category:
Photograph Buildings
Year Of Publication/Manufacture:
1912 ?
Time Period:
1900 to 1939
Description Of Item:
Digital image, 1599 x 1214, 1.4 Mb, of a sepia photograph of the optical workshop of A. P. Greenfield (1864-1930), Brisbane optometrist. Undated but probably about 1912, see below. The sign on the wall in the photograph identifies the workshop as that of Greenfield and Company, Ophthalmic Opticians, Brisbane.
Historical Significance:
The original photograph is held by Optometry Queensland and Northern Territory. Albert Percival Greenfield (1864-1930) was a prominent and entrepreneurial optometrist in Brisbane. He was born in Dunedin, New Zealand in 1864 and learned his optometry from Thomas R Procter. (See obituary for Greenfield Aust J Optom July 1930). Proctor practised optometry in Australia, particularly in Melbourne from 1888 until his death in 1908 but was in Christchurch from about 1870 until 1888. (See Cat Nos 2406, 2773). Procter was a man of many talents, a jeweller, prize winning silversmith and optician (he also styled himself as an oculist and scientific ophthalmologist). He wrote a 20 page treatise on optometry about 1890 (Cat No 2406). He also had a reputation as an astronomer and was involved with the party that went to New Zealand in 1874 to observe the transit of Venus, and was styled as an astronomer in a NZ newspaper report of a lecture he gave in Christchurch. Greenfield most likely learned a great deal from his tutelage under Procter, including how to be energetically entrepreneurial. Greenfield migrated to Australia in 1886 settling in Brisbane, . There he established what would become a large optometric practice in George Street. He joined in partnership with a H. A. Barraclough and the practice was then named Greenfield and Barraclough. However, Barraclough went to Sydney a few years later to practice there in own name. H. A. Barraclough was the foundation president of the first Australian optometric association, founded in Sydney in 1904 and was know for his quick adoption of the latest techniques and instrumentation for optometry (See Cole BL History of Australian Optometry, p 35-36). The Greenfield practice was incorporated in 1912. (See obituary)Greenfield claims in his advertisements that he was the person who introduced 'practical sight testing to Queensland', (See Cole p 31) this being no doubt what he had learned from Thomas Procter, the man of many talents. Greenfield was prominent in the affairs of his profession: he was to be the foundation President of the Queensland Institute of Ophthalmic Opticiansbut did not attend the inaugural meeting to be elected, but he was president in 1909, although he served just the one year; he was a member of the foundation Opticians Registration Board of Queensland in 1917 (See Cat No 2786); he was the Vice President for Queensland when the Australasian Optical Association was established in Sydney in 1904, but never attended a meeting; he represented Queensland to the meeting in Melbourne in 1918 that founded the Australasian Optometrical Association (now Optometry Australia) but according to Charles Wright in his History of Australian Optometry was more interested in boasting about the Queensland Opticians Act passed the year before than contributing to the core issues under discussion.The date of the photograph. The numerous staff in the workshop makes it unlikely that the photograph was taken in the early years of the Greenfield practice which began in 1886. The sign on the wall is for Greenfield and Co so the photograph is not from the period when Barraclough was a partner when his name was joined with Greenfield's. Barraclough left the practice about 1897 (see Brisbane Courier 29 June 1897). The practice was incorporated in 1912 and the sign in the photograph has the words '& Co'. This might have been the occasion for the taking of a photograph.
How Acquired:
Donated by Optometry Queensland and Northern Territory
Location:
Archive computer iPhoto