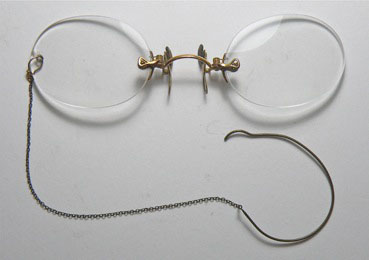 Rimless pince-nez with chain
Category:
Spectacles and lenses
Year Of Publication/Manufacture:
c 1900
Time Period:
1900 to 1939
Description Of Item:
Oval lens rimless pince-nez, 190 x 30 mm, glazed with +3.00 D glass lenses. Left lens has a hole on the outer margin taking a gold chain with ear hook. Gold bridge with adjustable pads and finger grips. Engraved with 1/10 126 on the back of the bridge. No frame size markings but measures 40/22.
How Acquired:
Donated by Colin Bates, honorary archivist
Condition:
Very good except small chip on outer edge of left lens
Location:
Archive Office. Spectacles cabinet Drawer 9