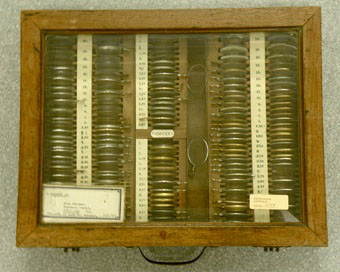 Trial lens set in wooden case with glass insert in hinged lid
Sub-Category:
Trial lens case
Year Of Publication/Manufacture:
c 1900
Time Period:
1900 to 1939
Description Of Item:
Trial lens set in wooden case, 370 mm W, 295 mm L, 60 mm H, with hinged lid with clear glass insert, 320 x 240 mm, originally containing 30 pairs of concave, 30 pairs convex lenses, and 18 pairs of concave and convex cylindrical lenses, but no prisms or auxiliary lenses except a stenopaic disc. The wood of the case has the appearance of cedar. Label pasted on glass section of the lid reading 'DONATED BY MISS WEISSER, HOPETOUN STREET, INVERLOCH, VIC. PROPERTY OF THE LATE MR WEISSER' and a date 2/2/59.
Historical Significance:
Solomon Weisser (1866-1958) was among the first optometrists to be registered for the practice of optometry in 1936 when the 1935 Victorian Opticians Act came into force for the first time (See Cat No 888), when Weisser was 70 years of age. He practised in Korumburra at the time of his registration. The Registration Board's records (Cat No 889) show that he held the Fellowship of the Victorian Optical Association (FVOA), which was first offered as a qualification by examination in 1913. He died in 1958 at the age of 92 years (Buried Korumburra Cemetery, near Leongatha and Inverloch). It can be assumed he practised optometry in a period from the turn of the century until about 1940, when he was aged 74. This trial case can be presumed to date from about 1910. The trial set contains no prisms or Maddox rod, a common inclusion in later trial cases, indicating that testing for and correcting of binocular vision imbalances was probably not done, lending credence to the view that this trial set dates from early in the 20th century. It does have cylindrical lenses for correction of astigmatism, which came into vogue in the early years of the 19th century. The first advertisement in Australia for cylindrical lenses to correct astigmatism as published in 1880.
How Acquired:
Donated by Miss Weisser, Hopetoun Street, Inverloch, Victoria
Condition:
Good except some missing lenses or their rims
Location:
Archive room. West wall. Unit 5 Drawer 3