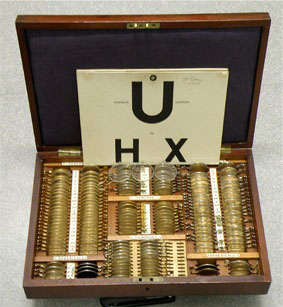 Trial lens set in wooden case with hinged lid
Sub-Category:
Trial lens case
Year Of Publication/Manufacture:
c 1935
Time Period:
1940 to 1999
Description Of Item:
Trial lens set in wooden case with the appearance of blackwood or mahogany wood, 400 mm W x 265 mm L x 73 mm H, with hinged lid, containing 22 pairs of nickel rimmed spherical lenses up to 16 D sph and sets of 9 pairs of convex and concave cylindrical lenses, with some additional cylindrical lenses included at a later date held in a specially made wooden insert with slots to hold the additional cylindrical lenses. Three prism trial lenses and several auxiliary stenopaic discs. Also included are (1) a 3-lens trial device with powers + 0.25. + 0.50 and +0.75 D Sph, which appears to be home made, and (2) a Snellen letter chart made by Hamblin of London for measurement of visual acuity, 580 x 250 mm, in 3 hinged sections so it can be folded.
Historical Significance:
The donor advised at the time of his gift (see archivists note in the trial set) that this trial lens set was owned by Dr Ellen Day (d. 1996), his aunt, who practised in the Eye and Ear Hospital between 1945 to 1975.
How Acquired:
Donated by Dr Paul Day, Melbourne GP
Location:
Archive office. East wall shelves unit 2