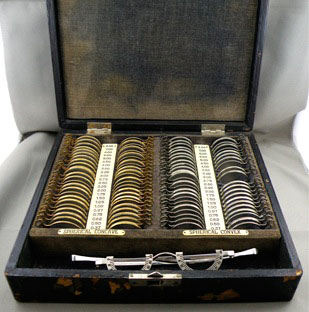 Trial lens set (spheres only) in wooden case with hinged lid
Sub-Category:
Trial lens case
Year Of Publication/Manufacture:
c 1890
Description Of Item:
Black varnished wooden case, 260 mm W x 230 mm D x 60 mm H, lined with dark blue (now faded) velvet, with hinged leatherette covered lid, containing 24 pair of 'brass' rimmed concave lenses to 8.00 D sph and 24 pairs of nickel rimmed convex lenses also to 8.00 D sph with a simple half eye two-cell trial frame with straight sides and axis markings in a separate compartment. Complete lens set except for the +2.25 D, +2.50 D and 3.25 D lenses.
Historical Significance:
This trial lens set lacks cylindrical lenses for correcting astigmatism and has no prisms or auxiliary lenses for measurement of binocular vision imbalances. This dates the trial set to the late 19th century or the very early years of the 20th century when measurement of astigmatism and assessment binocular balance was not universal. Sets of this limited nature were still on sale in 1904 (See Arthur Cocks catalogue (Cat No 2777) page 64 Item No N342 Figure 95.) The first correction of astigmatism using a cyindrical lens was by the Royal astronomer George Airy in 1825. Lenses to correct astigmatism were first advertised in Australia in 1880. Binocular vision assessment and correction with prism began to be adopted about 1890. Older optometrists with limited training may have used a set like this one in early years of the 20th century. More likely, jewellers, watchmakers and chemists who tested eyesight as a 'sideline' to their main business may have used a set like this one up until the 1920s. While a trial lens set such as this one may have been on sale in 1904 for a diminishing market is is more likely to have been manufactured in the 1890s.
Condition:
Fair to good. Varnish flaked on wooden base and 3 lenses missing
Location:
Archive office. East wall shelves unit 2