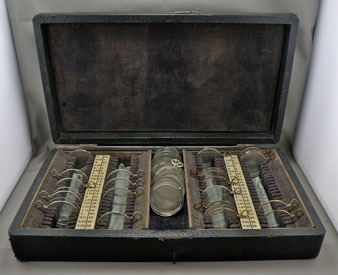 Trial lens set (spheres only and with D and inch scales) in black leatherette case
Sub-Category:
Trial lens case
Year Of Publication/Manufacture:
c 1880
Description Of Item:
Trial lens set with spherical lenses only contained in a rectangular case, 320 mm L x 175 mm W x 65 mm H, covered in imitation black leather and with hinged lid. The case is lined inside with now faded violet colored velvet and is fitted with slotted compartments for positive and negative spherical trial lenses. The powers of the lenses are engraved on two imitation (?) ivory strips between the columns of paired lenses. The powers are designated in both dioptres and inches. Originally the set held 24 pairs of positive and 24 pairs of negative lenses of power from 0.25 D to 7.00 D, but most of the original lenses are now lost. In the middle compartment (perhaps to hold a trial frame) is a collection of miscellaneous lenses some of which are cylindrical lenses with markings and frosting to assist locate the lens axis.
Historical Significance:
The most interesting feature of this trial lens set is that the lens powers are designated in both dioptres and inches. The inch was unsatisfactory because the defined length of the inch varied in different countries (Britain, Prussia France). The dioptre was proposed by French ophthalmologist Ferdinand Monoyer (1836-1912) in 1872 and was formally adopted at a medical conference in Brussels in 1874 and quickly came into use. The use of inches in this item suggests it dates from the late 19th century and the lack of cylindrical lenses supports this dating.
Condition:
Poor. Many lenses missing and leatherette damaged
Location:
Archive room. West wall. Unit 5 Drawer 3