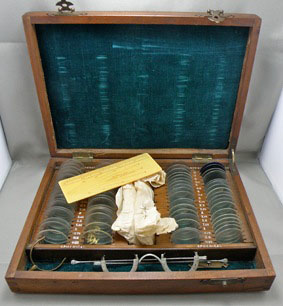 Trial lens set (spheres only) in wooden case
Sub-Category:
Trial lens case
Year Of Publication/Manufacture:
C 1900
Time Period:
1900 to 1939
Description Of Item:
Trial lens set holding only spherical lenses without rims, timber (cedar?) case lined with deep green velvet, 270 mm W x 200 mm D x 52 mm H, with hinged lid, 20 pairs of concave and convex trial lenses from 0.25 D Sph to 8.00 D Sph in slots, but many lenses are missing and tinted plano lenses added. In the central compartment is a collection of plus and minus cylindrical lenses wrapped loosely in tissue paper. The trial frame in the front compartment is a single cell frame with a later addition of cells for cylindrical lenses, the axis scales of which are hand inscribed from 180 degrees to 0 degrees in a direction opposite to the usual convention. There is included an optician's rule, 130 x 45 mm, made of mock ivory, which has an inscription W WOOD & CO PTY LTD MELBOURNE ./ MADE IN ENGLAND
Historical Significance:
This trial set was originally designed for the optician who did not correct astigmatism with cylindrical lenses and may date to the late 19th century. An owner added a collection of cylindrical lenses and adapted the trial frame to take those lenses. W Wood Pty Ltd was an optical wholesaler.
Condition:
Case in in good order but one clasp needs to be refitted. Lenses missing
Location:
Archive room. West wall. Unit 5 Drawer 4