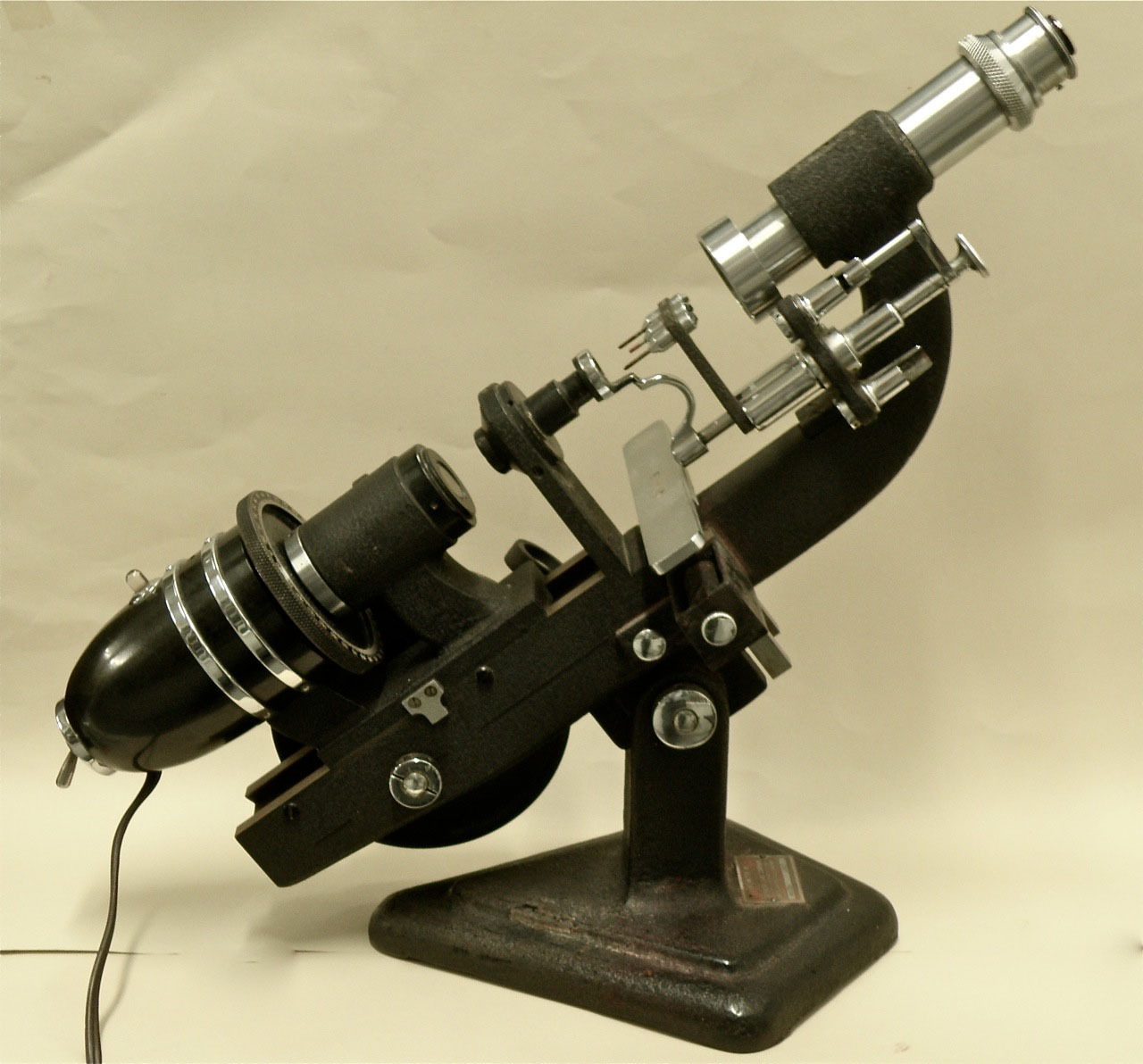 Spencer Optical (American Optical) Lensometer (vertometer)
Sub-Category:
Vertometer, lensometer, focimeter
Corporation:
Spencer Optical Company
Year Of Publication/Manufacture:
c 1940
Time Period:
1940 to 1999
Place Of Publication/Manufacture:
Buffalo, New York
Publisher/Manufacturer:
Spencer Optical Company
Description Of Item:
Lensometer for measuring the power of ophthalmic lenses and for marking the optical centre of a lens and the axis of orientation of any cylindrical power, comprising a lamp, lamp housing with toggle switch on top, internal focusing target, an adjustable optical system with knobs and external scales for measuring the power and axis of cylindrical power of lenses, each with a magnifying lens to assist reading the scales, focussing eyepiece, adjustable height platform on which the the lens or spectacles rest and a three point spring loaded marking system with ink wells. The triangular metal base on which the instrument can be titled carries a rectangular plate marked ' LENSOMETER JR / Manufactured by / SPENCER OPTICAL COMPANY / Scientific Instrument Division / AMERICAN OPTICAL COMPANY / M6038 L7677 ' The instrument is finished in black enamel and chrome.
Historical Significance:
This instrument was made by the Spencer Optical Company after it was acquired by the American Optical Company. Charles Spencer was the first American to successfully make microscopes in the U.S.A. and was the only USA firm to do so until 1849. It published its first catalogue in 1838. In 1865 he began operating as C. A. Spencer and Sons. In 1873 Spencer and his sons moved from the original shop in Canastota, New York to Geneva, New York. After Charles' death in 1881 the business was carried on by his son Herbert, who, after a time moved to Cleveland, Ohio, and then, in 1890, to Buffalo, New York, where the company remained. For a short time, between 1890 and 1895 the company became known as Spencer and Smith. The Spencer Company was incorporated in 1895, using the name Spencer Lens Company up into the 1940's. American Optical was established in 1833 as a small spectacle manufacturing concern in Southbridge, Massachusetts. The company grew rapidly, gradually acquiring additional facilities for manufacturing a range of optical products. In 1935 this expansion lead to its purchasing the Spencer Lens Company of Buffalo, New York.
How Acquired:
Donated by Alan W Johnston. member of the College
Location:
Archive office. East wall shelves unit 2