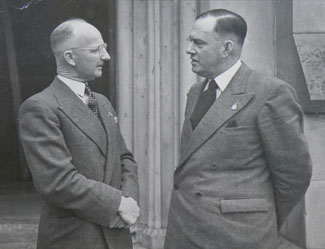 Reginald G M Hogan, Melbourne optometrist
Sub-Category:
Photograph People and events
Time Period:
1940 to 1999
Place Of Publication/Manufacture:
Melbourne
Description Of Item:
Framed photograph 265 mm x 240 mm, black frame with slip, photograph 153 mm x 110 mm, of Melbourne optometrist Reginald Hogan (on left) with an unidentified person. Both are wearing RSL badges. Ink stamp on back for CONROY-MOFFATT PTY LTD / PICTURE FRAMER/23 McKILLOP STREET / TEL MU 1975 - MELB
Historical Significance:
Reginald Hogan worked for John Browning, an optometry firm on the ground floor at 113 Collins Street Melbourne. He was identified in this photograph by Dawn Odgers in August 2013. Dawn Odgers was an optometrist who worked for John Browning at the same time as Hogan. Hogan served in World War 2 and returned full of enthusiasm for the army and keen to enhance the role of optometrists in the armed services. See Army and optometry Cat No 89. The photograph probably dates about 1950. He was a Fellow of the Victorian Optical Association (FVOA) and an active member. See Cat No 940. He was a lecturer in the VOA 'post-graduate' lecture series (see Cat No 551). He was Clinic Secretary of the VOA Fellowship course in 1935 and a councillor of the Australian College of Optometry in its foundation year of 1940. John Nathan says Hogan was an irrepressible but verbose enthusiast particularly in regard to the army and his place in the war as a commissioned optometrist.
Location:
Archive room. West wall. Unit 4 Drawer 2