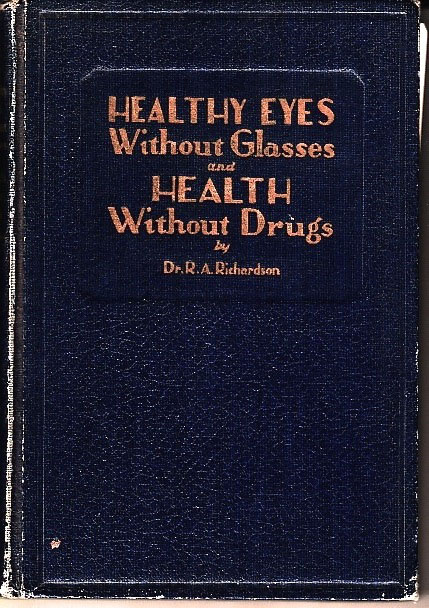 Healthy eyes without glasses and health without drugs
Sub-Category:
Book of historical note
Year Of Publication/Manufacture:
1935
Edition:
First Edition (Reprint 1935)
Time Period:
1900 to 1939
Place Of Publication/Manufacture:
Kansas City, Missouri
Publisher/Manufacturer:
Myra Deane Co
Description Of Item:
Original navy blue cloth covers, 200 x 140 mm, with grain effect, 239 pages including index. 14 black and white photographic figures in text. Loosely tipped in are (1) a sheet of thin paper on which is printed an acuity chart and a circle of dots with the letters A and B at 12 o'clock and 6 o'clock and numbers 1 to 5 and 8 and 0 at the centre and corners, which is presumably some form of training or assessment chart, and (2) a near vision letter chart, 180 x 165 mm, with 11 lines of letters of diminishing size, with size marked in feet or inches. The reverse side has instructions for use. The large letter chart is headed ' Copyright 1935 Dr R. A. Richardson, Kansas City Mo with advice that the chart can be pasted on cardboard or a chart on heavier paper can be purchased.
Historical Significance:
The first edition of this book was published in 1925 under a different title (See Cat No. 2817) and had six printings. This edition is cited as the seventh printing 1935 but has a new title and a preliminary page advises that it has been rewritten, enlarged and revised, so it is in effect a second edition. Dr Richardson is described on the title page as 'Osteopathic physician and surgeon, oculist and optometrist and chief of staff Eyesight and Health Association'. He is the author of three other books on foods, wrinkles and on why people succeed and fail. This book is one of a number written in the first half of the 20th century on good sight without glasses. See Macfadden (1901 and 1925) Cat Nos. 429, 1081; Bates (1920 and 1945) Cat Nos. 98, 250; Benjamin H (1935 and 1940) Cat Nos. 94, 252; Huxley (1943) Cat No 699; Ferguson (1950) Cat No 579; Hauser (c 1960) Cat No 576.
How Acquired:
Donated by James Marshall Williamston
Location:
Archive room. East wall. Books of historical note