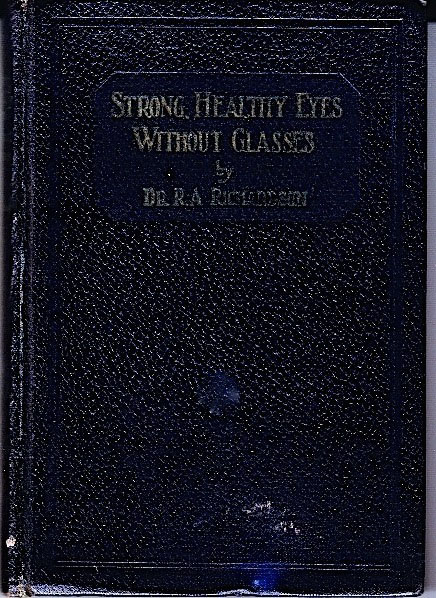 Increasing the strength of the eyes and eye muscles without the aid of glasses
Sub-Category:
Book of historical note
Year Of Publication/Manufacture:
1928
Edition:
First Edition (4th printing)
Time Period:
1900 to 1939
Place Of Publication/Manufacture:
Kansas City, Missouri
Publisher/Manufacturer:
The Eyesight and Health Association
Description Of Item:
Original navy blue cloth covers, 200 x 140 mm, with grain effect, 199 pages, 17 Chapters, no index but a detailed 6 page contents listing by Chapter in preliminary pages, 29 black and white photographic figures in text, unnumbered page advertising the author's books and products. Name of the previous owner on front fly leaf ' R Bell / 6 Ruabon Rd. / Toorak / SE 1 / Vic '
Historical Significance:
This book was first published in 1925. It had 5 further printings and a new edition was published in 1934 under a different title (See Cat No. 2816). Dr Richardson is described on the title page as 'A graduate and licensed osteopathic physician and surgeon / Also oculist and optometrist '. He is the author of three other books on foods, wrinkles and on why people succeed and fail. This book is one of a number written in the first half of the 20th century on good sight without glasses. See Macfadden (1901 and 1925) Cat Nos. 429, 1081; Bates (1920 and 1945) Cat Nos. 98, 250; Benjamin H (1935 and 1940) Cat Nos. 94, 252; Huxley (1943) Cat No 699; Ferguson (1950) Cat No 579; and Hauser (c 1960) Cat No 576.
How Acquired:
Donated by James Marshall Williamston
Condition:
Fair, front hinge broken and some early pages water stained
Location:
Archive room. East wall. Books of historical note