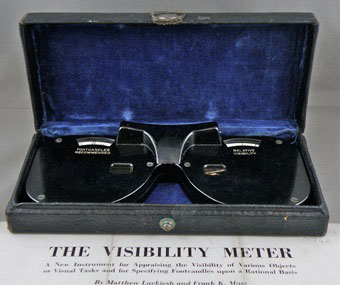 Luckiesh-Moss visibility meter
Sub-Category:
Lighting meter
Designer/inventor:
LUCKIESH Matthew, MOSS Frank K
Year Of Publication/Manufacture:
1935
Time Period:
1900 to 1939
Place Of Publication/Manufacture:
Cleveland, Ohio, USA
Publisher/Manufacturer:
General Electric Company
Description Of Item:
Moulded black plastic case containing two continuously variable neutral density (ND) filters that are rotated in synchrony by a beige coloured plastic disc located at the top of the left side (as viewed from the front). The ND filters pass over two viewing apertures that are glass protected on both sides. The front is marked with engraved lettering filled with white ' VISIBILITY METER / LUCKIESH-MOSS.' and below embossed letters reading PAT. APPLIED FOR. The back of the instrument (the operators viewing side) has two scales, one marked FOOT-CANDLES RECOMMENDED, and the other RELATIVE VISIBILITY. The instrument is contained in a case covered in black leatherette and the lid is secured with a press button latch. The case is lined with blue velvet. Enclosed with the instrument is a page printed both sides from the The Magazine of Light for July (no year) which is an explanatory article by Luckiesh and Moss.
Historical Significance:
The ND filters are adjusted until a visual task is no longer functionally visible. This measures the visual threshold for performance of a visual task and expresses this on the scale for relative visibility. The measurements are made when the task is illuminated with 10 foot-candles (21 lux). This is referenced to data for viewing 8 point Bodoni type printed in black ink on good white paper and in effect is a relative measurement of visibility that takes account of difference in detail size. complexity and contrast. Relative visibility is converted in the second scale on the instrument to recommended illuminance. Matthew Luckiesh DSc, DE, (1883 -1967) was an American physicist and, as the Director of General Electric's Lighting Research Laboratory at its Nela Park National Lamps Works facility in East Cleveland, Ohio, pursued research on light and vision. In his day, he was known as the "Father of the Science of Seeing." Luckiesh developed several theories on colour and its physiological effect on people. He was also interested in determining the conditions under which optimal visibility was achieved, and in examining the relationship between light and seeing, in order to design better types of illumination. Luckiesh produced 11 U.S. patents, 28 books and about 860 scientific and technical articles, published between 1911 and 1960. His name is pronounced as if it were spelled loo'kish with the u in the first syllable is u as in rude, and the second syllable rhymes with dish. The Kett Museum holds seven of his books (Cat Nos 74, 77, 81. 293, 294, 295, 2275). The key paper for this visibility meter is J Franklin Inst 1935; 220(4) October issue. This example of the Luchiesh-Moss Visibility meter claims patent pending so it can be assumed it is among the first produced in 1935.
How Acquired:
Donated by Professor Stephen Dain, University of NSW
Condition:
Good except link between the the rotating ND filters for the right and left eyes is broken
Location:
Archive room. West wall. Unit 5 Drawer 2