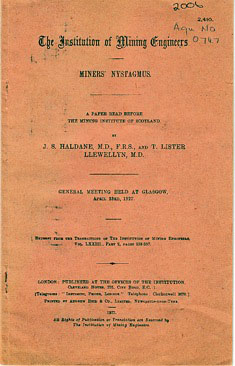 Sub-Category:
Published articles
Author:
HALDANE J. S., LLEWELLYN T. Lester
Year Of Publication/Manufacture:
1927
Time Period:
1900 to 1939
Place Of Publication/Manufacture:
London, UK
Publisher/Manufacturer:
Institution of Mining Engineers
Description Of Item:
Reprint of a paper by JS Haldane and T L Llewellyn on the subject of Miners' nystagmus read before the Mining Institute of Scotland at a General meeting held in Glasgow on April 23rd 1927, being an excerpt from the Transactions of the Institution of Mining Engineers Vol LXXII Part 2 Pages 238-257, yellow-brown paper cover, 21 pages including discussion of the paper, centre stapled,
Historical Significance:
Miners' nystagmus was reported in the 19th century as occurring in coal miners and thought at the time to be related to lack of illumination as well as other factors. Nature 91, 30-30 (13 March 1913) | reported that miners' nystagmus is a disease which incapacitates a large number of coal miners, estimated by Dr. Lister Llewellyn to cost the country 100,000 pounds a year. It is characterised by rapid involuntary movements of the eyes, associated with photophobia night-blindness. John Scott Haldane CH FRS (1860 - 1936) was a Scottish physiologist. He was an international authority on ether and respiration and the inventor of the gas-mask during World War I. He helped determine the regulation of breathing, and discovered the Haldane effect in haemoglobin. In 1907 Haldane made a decompression chamber to help make deep-sea divers safer and produced the first decompression tables, He was also an authority on the effects of pulmonary diseases, such as silicosis caused by inhaling silica dust. After being forced out of combating poison gases in World War I, through alleged German sympathies, he shifted into working with victims of gas warfare and developed oxygen treatment including the oxygen tent, He investigated numerous mine disasters, and was especially interested in the toxic gases which killed most miners after firedamp and coal dust explosions. His description of the way a flame safety lamp can be used to detect firedamp by the increase in height of the flame, and chokedamp by the dying of the flame, is a classic exposition in his textbook.
How Acquired:
Donated by Stephen Dain, University of NSW
Location:
Archive office. Pamphlet and ephemera filing cabinet. Drawer 7