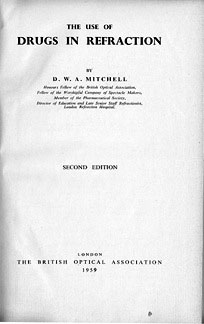 The use of drugs in refraction
Sub-Category:
Book of historical note
Year Of Publication/Manufacture:
1959
Time Period:
1940 to 1999
Place Of Publication/Manufacture:
London
Publisher/Manufacturer:
British Optical Association
Description Of Item:
Original wine coloured cloth covers, 225 x 145 mm, 146 pages, 23 black and white photographs and figures in text. Signature of William Cooper, the previous owner, on front fly leaf.
Historical Significance:
Optometrists in Australia were prohibited at law from having or using drugs for the purpose of measuring the powers of vision and did not use mydriatics or cycloplegics until the second half of the 20th C. This prohibition was repealed in NSW in 1962 and in 1982 in Victoria, although implementation of the provisions of the NSW Act was delayed to 1972 because of medical obstructionism. See Documents Cat No. 541 and Cole BL History of Australian Optometry 2015 page 165 for more information. There was no prohibition on the use of drugs by optometrists in the UK, from where this book originated. From the 1940s there was increasing interest among UK optometrists in the use of mydriatics and cycloplegics and this book was one of the guiding texts. It became much used by Australian optometrists and optometry students in the 1960s, when diagnostic drugs were increasingly used despite the prohibition of their use under Australian law. This book was first published in 1946 (reprinted in 1949 See Cat No 592), 2nd edition 1959 (See Cat No 2823) (Reprinted 1960), with a 3rd edition 1964. The British Optical Association published the 2nd and 3rd editions. David Mitchell (1904-1998) taught use of drugs in refraction and ocular disease in the optometry course at the Northampton Polytechnic in London (Now City University).
How Acquired:
Donated by Estate of William Cooper, via Peter Lewis
Location:
Archive room. East wall. Books of historical note