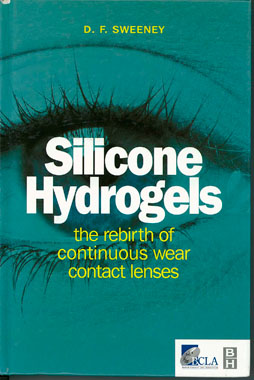 Silicone hydrogels: the rebirth of continuous wear contact lenses
Sub-Category:
Book of historical note
Year Of Publication/Manufacture:
2000
Place Of Publication/Manufacture:
Oxford
Publisher/Manufacturer:
Butterworth-Heinemann
Description Of Item:
Colour illustrated hardback, 279 pages and 2 unnumbered pages of advertisements, illustrated in colour and black and white throughout. Name of former owner (Kerry Hudson) on front fly leaf. Half title page states that the copy was presented with the compliments of Bausch and Lomb. Preface by Brien Holden. There are 8 chapters the first authors of which are Brian Tighe, Graeme Wilson, Mark Willcox, Michel Guillon. Deborah Sweeney, Brien Holden, Desmond Fonn and Noel Brennan.
Historical Significance:
This book sets out to provide researchers and practitioners with the latest information on how high Dk silicone hydrogel contact lenses have been developed. This material provides high oxygen transmissibility opening up the prospect of safe comfortable continuous contact wear. The material was a very important breakthrough for contact lens practice. Chapter 1 gives the basic polymer chemistry and a history of the patents for a material of this kind from 1979 to 1996. The last patent lists 20 inventors from around the world members of a collaborative international team. The editor is an Australian optometrist and at the time the book was published she was the Executive Director of the Cooperative Research Centre for Eye research at the University of NSW. Six of the 24 authors are Australian optometrists.
How Acquired:
Purchased by Kett Museum (Abe books)
Condition:
Very good (small chip on top of spine)
Location:
Archive room. East wall. Books by Australian authors