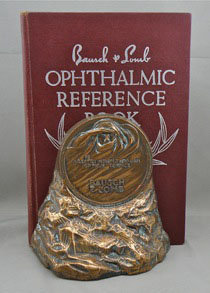 Pair of copper bookends made for Bausch and Lomb
Category:
Historical object or artefact
Corporation:
Bausch and Lomb
Time Period:
1900 to 1939
Place Of Publication/Manufacture:
Rochester
Publisher/Manufacturer:
Bausch and Lomb
Description Of Item:
Pair of bookends (135 H x 140 W x 65 D at base) promoting Bausch and Lomb, made of copper with green felt covering the bases. Each bookend features a round 'medallion' displaying the head of a heroic antiquarian figure with an arab head dress (possibly the great arab optical scientist of the 9th C) and the words ' TO / GREATER VISION THROUGH / OPTICAL SCIENCE / BAUSCH AND LOMB with a longer inscription around the perimeter of the medallion reading ' CONTINUOUS CONTROL OF EVERY PROCESS THROUGH GLASS MAKING AND SCIENTIFIC COMPUTATION TO FINISHED PRODUCT '
Historical Significance:
These commemorative bookends may have been made for the 100th anniversary of Bausch and Lomb in 1953, although they would have been designated as commemorating the company's 100th year if that were the case. Ebay sellers date them as from the 1920s or 1930s. Bausch + Lomb was founded in 1853 by John Jacob Bausch and Henry C. Lomb both German immigrants, in Rochester, New York. A trained optician, Bausch found in Lomb the financier and partner he needed for a small but ambitious workshop producing monocles. In 1861, the company manufactured Vulcanite rubber eyeglass frames and other precision vision products. Its great success was the Ray-Ban sunglass. The company grew to be a large company which in 2007 had 14,000 employees. Its Ray-Ban brand of sunglasses was sold in 1999 to the Italian Luxottica Group. Bausch + Lomb was a public company listed on the NYSE until it was acquired by the private equity firm Warburg Pincus PLC in 2007. In May 2013, Valeant Pharmaceuticals agreed to buy Bausch + Lomb from Warburg Pincus LLC for $8.57 billion in cash.
How Acquired:
Donated by Ron Wrigley, Melbourne optometrist and member of the College
Location:
Archive room. East wall. Books of historical note