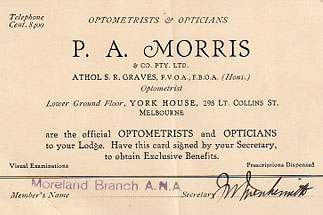 Business card and voucher for P. A. Morris and Co Pty Ltd, optometrists and opticians, Melbourne
Category:
Memorabilia and ephemera
Sub-Category:
Advertising, ophthalmic practitioners
Year Of Publication/Manufacture:
c 1940
Time Period:
1940 to 1999
Description Of Item:
Business card printed on cream card, 125 x 85 mm, for P. A. Morris and Co Pty Ltd, optometrists and opticians, in the lower ground floor of York House at 298 Little Collins Street, Melbourne and showing that the attending optometrist is Athol S R Graves FVOA FBOA (Hons). The card states that the firm is the official optometrist for 'your lodge'. It invites lodge members to have the card signed by the Lodge secretary and space is provided for this at the bottom of the card. This card is so signed and rubber stamped 'Moreland Branch ANA' although the name of the lodge member has not been inserted.
Historical Significance:
This card is hard to date. It has an early telephone number but uses the designation 'optometrists and opticians'. The term optometrist was rare before 1930. PA Morris was registered in 1936 as an optometrist at the address on the card in the opticians register under the Victorian Opticians Act of 1935. The attending optometrist named on the card, Athol Graves, qualified FVOA, which would have been before 1940 when FVOA gave way the LOSc qualification. He was still in practice in the 1970s but by that time he was practising in the former practice of Percy Spargo in Geelong. Graves was not a registered optometrist in 1936. The business card is also a voucher for discounts for members of a Lodge (Friendly Society). The Percival Morris was in practice in 1932. Sydney Morning Herald 9 Jan 1932 reported 'Rothsay Stewart Wortley, 33, was charged at the City Court to-day with having, by means of a valueless cheque, obtained a motor car from Autocar Industries on December 28 with intent to defraud, and with having obtained from Arthur Percival Morris spectacles and ?1/17/6 with intent to defraud ... Arthur Percival Morris optician of Little Collins-street said that on December 28 Wortley, dressed as a clergyman purchased from him several pairs of spectacles and tendered in payment for them a cheque for ? 10 On the following day the cheque was returned to him marked "No account "
How Acquired:
Donated by Michael Aitken, honorary archivist
Date Acquired:
April 2016
Condition:
Good except for a vertical centre crease
Location:
Archive office. Pamphlet and ephemera filing cabinet. Drawer 7