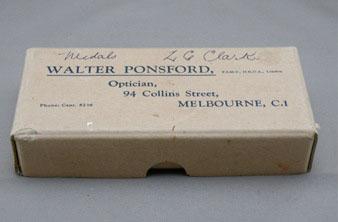 Post box for spectacles for William Ponsford
Category:
Memorabilia and ephemera
Year Of Publication/Manufacture:
c 1950
Time Period:
1940 to 1999
Description Of Item:
Post box, 160 x 75 x 38 mm, light brown card designed for posting spectacles. On the top is printed ' WALTER PONSFORD FSMC, DBOA (LOND) / OPTICIAN / 94 COLLINS STREET / MELBOURNE, C1 / Phone Cent 8236. Hand written in ball point ' Medals ' and ' L. G. Clark '
Historical Significance:
Post boxes for spectacles were commonly used in the early years of optometry because it was not always convenient for patients, especially those in the country, to attend to collect their glasses or to return them for adjustment or repair. Walter Ponsford was registered as an optician (optometrist) in August 1936 at the same address as given on this box. He was among the other optometrists registered for the first time under the then new Victorian Opticians Act of 1935. He was in practice before 1936 and also before 1924 since he announced a change of address in that year. From the Barber family history http://wagstrees.wags.org.au/barber12002/g4/p4143.htm: Walter Norman Ponsford was born on 23 August 1890 at Robinson's Road, Hawthorn, Victoria, Australia. He was the son of Walter Silvester Augustus Ponsford and Thirza Hannah Brown. He obtained his FSMC (and Freedom of the City of London) on 3 June 1919. He advertised in the classified advertising section of the Argus 28 Nov 1919 and 23 Dec 1919 in these words ' Walter Ponsford FSMC DBOA Optician 283 Collins Street 3rd Floor op Kodak. Oculists prescriptions receive best attention'. It seems he began practice in 1919 and was at the address on ths box from 1924 and probaly ceased practice about 1955. In the second advertisement in the Argus he claims 'Ex AIF' indicating he had served in the first World War (1814-1918). He probably took up his FSMC and BOA studies in London when discharged from the armed forces when the war ended in 1918. He died in 1963 (age 73) in Victoria, Australia.
How Acquired:
Donated by Michael Aitken, honorary archivist
Location:
Archive room. West wall. Unit 2 Drawer 2