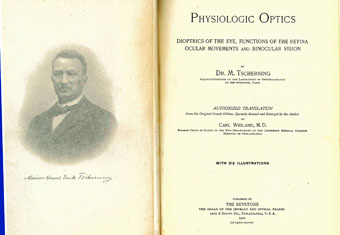 Physiologic optics. Dioptrics of the eye, functions of the retina, ocular movements and binocular vision
Sub-Category:
Book of historical note
Author:
Marius Hans Erik TSCHERNING
Year Of Publication/Manufacture:
1900
Time Period:
1900 to 1939
Place Of Publication/Manufacture:
Philadelphia
Publisher/Manufacturer:
Keystone
Description Of Item:
353 pages and advertisements, 212 illustrations including a frontispiece portrait of Tscherning. Translated by Carl Weiland. Ink stamps for 'E V JOYCE/ WATCHMAKER & JEWELLER/ CLARINDA ST/ PARKES' (NSW)
Historical Significance:
Marius Tscherning (1854-1939) was born in Denmark and became adjunct Director of the laboratory of ophthalmology at the Sorbonne in Paris. He returned to Denmark in 1910 as Professor of Ophthalmology and head of the Eye Department, Rigshospitalet. He published > 100 scientific papers, mainly on optical physiology (aetiology of myopia, entoptic phenomena, Purkinje pictures, the polygonal pattern provoked by corneal rubbing). He studied the law of Listing and invented the ophthalmophacometer, which measures the changes in the front and back curvatures of the crystalline lens during accommodation. Tscherning also studied aberration and calculated and constructed forward bulging periscopic (punctal) spectacle lenses.The Keystone Publishing Company published a journal called the 'The Keystone' which was the organ of the Jewelry and Optical Trades. Another copy of the first edition (cat No 2248) is in the Aitken Collection. A copy of the second edition (cat No 339) is in the Archive Room.
Location:
Archive room. East wall. Books of historical note