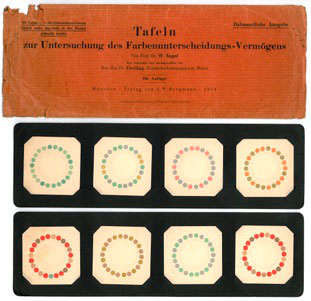 Directions for giving the Nagel (color or card)Test
Sub-Category:
Colour Vision Test
Year Of Publication/Manufacture:
undated
Time Period:
1940 to 1999
Place Of Publication/Manufacture:
South Hadley, Massachusetts
Publisher/Manufacturer:
Dept Philosophy and Psychology, Mount Holyoke College
Description Of Item:
Single half quarto letterhead, headed ' Mount Holyoke College / South Hadley, Massachusetts / Department of Philosophy and Psychology ', undated, with hand-written directions for giving the Nagel Color Test.
Historical Significance:
This item was among a collection of colour vision tests dating from 1914 purchased online by the Kett Museum in September 2013. (See Cat Nos. 2366 to 2369). The Nagel Test is a forgotten test of colour vision. Two examples are held by the BOA Museum (College of Optometrists, London), one in German dated by the Museum as 1934 (pictured) and one translated to English dated 1938. It was devised by Dr Willibald A Nagel, (1870-1911), the inventor of the Nagel anomaloscope who was an assistant to Johannes von Kries, the man who proposed the nomenclature for the colour vision deficiencies that is still in use. It is described in some detail in Whipple GM, Manual of mental and physical tests published in 1910 and reprinted by Forgotten Books in 2013, See http://www.forgottenbooks,com /readbook_text/Manual_of_Mental_and_Physical_Tests_1000726377/177. Mount Holyoke College is a US liberal arts College for women founded 1837 as Mount Holyoke Female Seminary.
How Acquired:
Purchased by Kett Optometry Museum
Location:
Archive office. Pamphlet and ephemera filing cabinet. Drawer 6