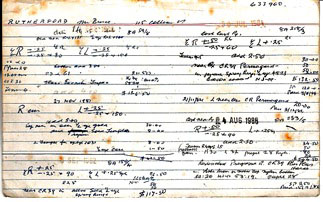 Two clinical record cards of Len Angior, Melbourne optometrist
Sub-Category:
Patient examination record
Practice/Business:
Angior, Leonard
Year Of Publication/Manufacture:
1981-1997
Time Period:
1940 to 1999
Place Of Publication/Manufacture:
Melbourne
Description Of Item:
Two hand-written clinical record cards, 200 x 130 mm, from the optometric practice of Leonard Angior of Collins Street, Melbourne, with clinical notes on both sides of both cards for examinations between 30/7/1984 to 20/1/1997 for a patient Bruce Rutherford.
Historical Significance:
This is an example of clinical optometrical records of the kind made in the 20th century by an optometrist who qualified in the first half of that century. Len Angior (1913-2001) was a Fellow of the Victorian Optical Association (FVOA) and modestly active in the affairs of his profession. He was among the first optometrists to be registered in 1936 under the then new Opticians Registration Act, when he was 23 years of age, so he obtained his FVOA before this date. He was the First Vice-President and Chairman of the Council of the Australian College of Optometry from 1947-1954. He was sufficiently well regarded to be granted the Diploma of Licentiate of the Optometric Science by the College honoris causa in 1965 but was never made an honorary life member of the College. John Nathan (Cat No. 533) describes him as earnest, quiet and conservative but nonetheless a contributor of the early development of the College. He was not a lecturer but did some clinical teaching.
How Acquired:
Donated by Colin Grahame, optical wholesale representative
Location:
Archive office. Pamphlet and ephemera filing cabinet. Drawer 6