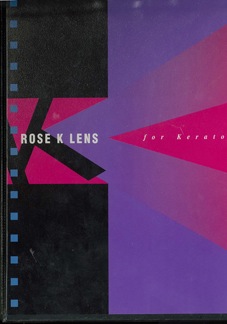 Rose K Keratoconus Contact Lens Fitting Set
Category:
Spectacles and lenses
Sub-Category:
Contact lenses and accessories
Designer/inventor:
Paul Rose
Year Of Publication/Manufacture:
Mid 1990's
Time Period:
1940 to 1999
Place Of Publication/Manufacture:
Sydney, Australia
Publisher/Manufacturer:
Eyecon Lens Laboratories
Description Of Item:
Three ring loose leaf binder 260 x 310 x 35 mm with the words Rose K lens for keratoconus and Diagnostic fitting kit on the cover which has a pink, purple and black geometrical design background. The binder contains a four page Practitioner's guide and three plastic sheets of 9 pockets each containing a flat lens case. The lens cases each contain one trial PMMA lens. Parameters range form BCOR of 5.10mm to 7.6mm in 0.1mm steps. Lenses are all 8.7mm diameter and powers range from -19.50D to -1.75D with the higher powers in the steeper lens radii.
Historical Significance:
The Rose K lens was developed by Paul Rose, a New Zealand optometrist, following analysis of over 300 of his keratoconus patients, to improve success in fitting keratoconic patients. The final fitting set consisted of 26 lenses. In 1995 FDA approval was granted and the lenses became one of the most prescribed globally. The system was updated in 2005 as Rose K2 with a greater range of designs.
How Acquired:
Donated by Robert Kaye
Date Acquired:
16/06/2014
Location:
Archive room. West wall. Unit 6 Drawer 5