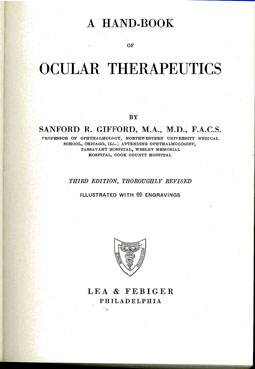 A handbook of ocular therapeutics
Sub-Category:
Book of historical note
Author:
GIFFORD Sanford Robinson
Year Of Publication/Manufacture:
1942
Time Period:
1940 to 1999
Place Of Publication/Manufacture:
Philadelphia
Publisher/Manufacturer:
Lea and Febiger
Description Of Item:
Original navy blue cloth, 410 pages, 69 black and white illustrations. Blind stamp for E Wood and Co Pty Ltd, optician, Melbourne
Historical Significance:
The first edition of this book was published in 1932. The 4th edition was published posthumously in 1948 and is the last edition (Cat No 802). Dr Sanford Gifford (1892-1944) was a distinguished US ophthalmologist. There is a memorial lecture named for him. He was a physician, ophthalmologist, microbiologist and educator who investigated ocular diseases caused by bacteria and fungi, researched the biochemistry of the eye and problems of a general physical condition such as diabetes and vascular disease. He identified the likely causes of the previously unknown agricultural conjunctivitis, authored or co-authored some 150 publications, including several textbooks. He was the posthumous recipient of the Howe Gold Medal in 1944. See New York Times obituary, February 26, 1944, p. 13 and Dictionary of American Biography, Sup 3 (1973) 301-302 and Dictionary of Medical Biography, Vol 1 (Greenwood Press, 1984) 290-291.
How Acquired:
Donated by Ross Harris, honorary life member of the College
Location:
Archive room. East wall. Books of historical note