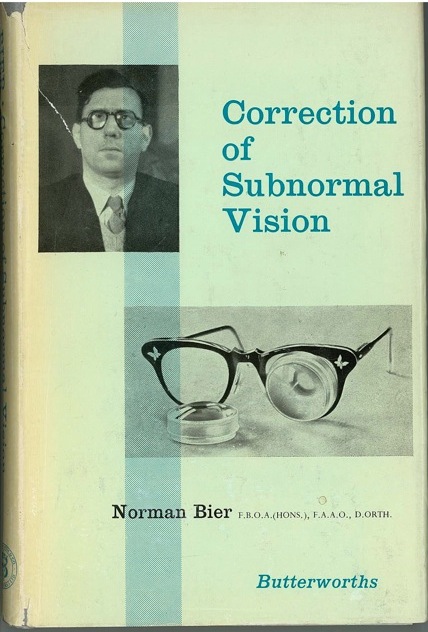 Correction of sub-normal vision (with contemporaneous papers tipped in)
Sub-Category:
Book of historical note
Year Of Publication/Manufacture:
1960
Time Period:
1940 to 1999
Place Of Publication/Manufacture:
London
Publisher/Manufacturer:
Butterworths
Description Of Item:
Original light grey cloth cover, original printed and illustrated pale green dust cover, 231 pages, 16 pages of index, 33 photographic illustrations in text. Tipped in are (1) contemporary price list from J R Fleming Ltd London for subnormal vision lenses, (2) 10 page pamphlet titled 'The correction of subnormal vision with Bier-Fleming lenses, (3) typed letter to Harold Barton re prices of the lenses from J R Beck and Co, Melbourne optical distributors dated 4/12/1961 and (4) typed letter to Harold Barton from JR Fleming Ltd London dated 9/4/1962.
Historical Significance:
Normal Bier was a British optometrist who was a pioneer in both low vision and contact lenses. This is probably the first book solely devoted to low vision and marks the beginning of the era in which optometrists applied their skills and ingenuity to achieving best possible vision for those with permanent vision loss. There was a further edition in 1970. The ownership of this book and the papers tipped into it indicate that Harold Barton, an optometrist in Melbourne, Australia, was interested in providing low vision aids to his patients in the 1960s.
How Acquired:
Donated by Harold Barton, Melbourne optometrist
Condition:
Good, except dust cover is slightly torn
Location:
Archive room. East wall. Books of historical note