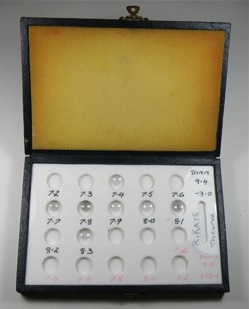 Rigid Contact Lens Trial Set
Category:
Spectacles and lenses
Sub-Category:
Contact lenses and accessories
Time Period:
1940 to 1999
Description Of Item:
Blue leatherette case 180 x 120 x 25 mm with a single central catch containing nine trial PMMA lenses of Tricurve design. There are recesses for twenty lenses. Twelve are for 9.4mm diameter -3.0 D with curvatures 7.20 to 8.30 mm in 0.1mm steps and six are for 9.5mm diameter +13.0D with curvatures 7.20 to 8.20mm in 0.2mm steps and labelled accordingly. -3.0D lenses with curvatures of 7.2, 7.3, 7.5, 7.6, 7.7, 7.9 and 8.0 are missing as are +13.0D lenses with curvatures of 7.4, 7.8, 8.0 and 8.2. Lenses are engraved on edge with curvature details. A recess for a lens remover is on the right side of the container.
Historical Significance:
Trial sets of rigid lenses were an important item of equipment for contact lens practitioners and were supplied in a number of different designs. The trial lens design was often modified to provide the best fit for the patient. The optometrist would use a keratometer to determine central corneal curvature and use the fluorescein pattern observed using a Burton lamp to assess the fit. A similar set is Cat. No. 2494.
How Acquired:
Donated by Robert Kaye
Date Acquired:
29/08/2014
Condition:
Good. Case has a slight tear on top rear edge.
Location:
Archive room. West wall. Unit 6 Drawer 2