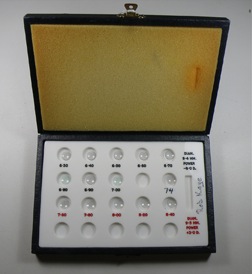 Rigid Contact Lens Trial Set
Category:
Spectacles and lenses
Sub-Category:
Contact lenses and accessories
Time Period:
1940 to 1999
Description Of Item:
Blue leatherette case 180 x 120 x 25 mm with a single central catch containing 14 trial PMMA lenses. Eight lenses are 9.4mm diameter -6.0 D with curvatures 6.30 to 7.00 mm in 0.1mm steps and a ninth is 7.4mm. Five lenses are 9.5mm diameter +3.0D with curvatures 7.60 t0 8.40mm in 0.2mm steps. Lenses are engraved on edge with curvature details. All except 6.8 and 7.00 mm lenses are tinted grey. The latter are tinted green. A recess for a lens remover is on the right side of the container.
Historical Significance:
Trial sets of rigid lenses were an important item of equipment for contact lens practitioners and were supplied in a number of different designs. The trial lens design was often modified to provide the best fit for the patient. The optometrist would use a keratometer to determine central corneal curvature and use the fluorescein pattern observed using a Burton lamp to assess the fit. A similar set is Cat. No 2493
How Acquired:
Donated by Robert Kaye
Date Acquired:
29/08/2014
Location:
Archive room. West wall. Unit 6 Drawer 2