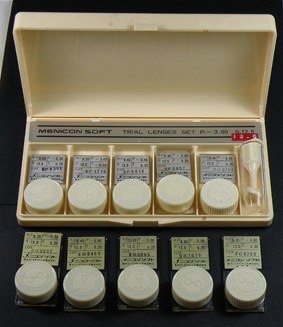 Menicon Soft Contact Lens Trial Set
Category:
Spectacles and lenses
Sub-Category:
Contact lenses and accessories
Corporation:
Toyo Contact Lens
Year Of Publication/Manufacture:
c 1987
Time Period:
1940 to 1999
Place Of Publication/Manufacture:
Japan
Publisher/Manufacturer:
Toyo Contact Lens
Description Of Item:
Menicon Soft contact lens trial set in a cream plastic case with a hinged lid, 165 x 90 x 22 mm, containing 10 screw top containers each with a contact lens, and a lens applicator in a clear plastic tubular protector. Each lens case is mounted on a flat plastic base on which is a label bearing the dimensions of the lens, a batch number and Japanese characters. Five of the lenses are 13.0 mm diameter and the other five 12.5 mm diameter. The top of the case bears the words 'MENICON SOFT TOYO CONTACT LENS'
Historical Significance:
Menicon was founded in 1951 by Kyoichi Tanaka. He was an employee of an optical shop in Nagoya when he first heard about contact lenses from the wife of a US army officer, who was a regular customer. He subsequently established a contact lens manufacturing business, producing contact lenses, the first made in Japan, using aircraft windshield glass and an adapted machining lathe. The Nippon Contact Lens Research Institute was founded in 1952 and full-scale production began in that year. The Nippon Contact lens Company was founded in 1965 and Menicon was registered as a trademark in 1967. Menicon soft was introduced in 1973. In 1987 Tokyo Contact Lens Co., Ltd. and Menicon Co Ltd. merged to become the new Menicon Co Ltd. which now manufactures, sells, exports, and imports contact lenses and other medical goods as well as medical Instruments, medical supplies and research and development of intraocular lenses.(See also Cat nos 1937,3951, 3975 )
How Acquired:
Donated by Colin Bates. honorary archivist
Date Acquired:
16/01/2013
Condition:
Good. Case has some stains.
Location:
Archive room. West wall. Unit 6 Drawer 5