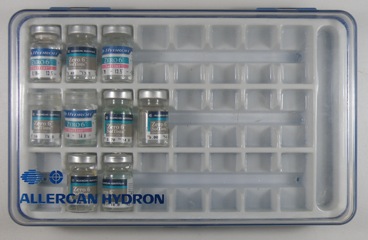 Allergan Hydron Tinted Soft Contact Lens Trial Set
Category:
Spectacles and lenses
Sub-Category:
Contact lenses and accessories
Corporation:
Allergan Hydron
Time Period:
1940 to 1999
Place Of Publication/Manufacture:
Adelaide, Australia
Publisher/Manufacturer:
Allergan Hydron
Description Of Item:
Hinged plastic box, 245 x 160 x 40 mm, with a blue base and clear top with the words Allergan Hydron printed in blue in the bottom left hand corner. The base has compartments for 24 lens vials and contains 9 Zero 6 SofTint trial lenses with expiry dates from 03/98 to 12/05. All lenses are tinted to provide samples of blue, aqua, green and brown in light and medium and one of dark brown. Parameters cover base curves 8.1mm to 9.0mm in 0.3mm steps with diameters of 13.5mm and 14.0mm. Powers are predominantly -3.00D with one each of -2.75D, +2.75D and +3.00D
Historical Significance:
Transparent tinted lenses were able to enhance eye colour and in some cases a change in eye colour. Samples in trial fitting sets allowed the effect of colour to be demonstrated and the full set of parameters enabled an appropriate fit to be determined. Zero 6 lenses were 38% Hema with a nominal centre thickness of 0.6mm.
How Acquired:
Donated by Colin Bates
Date Acquired:
16/01/2013
Location:
Archive room. West wall. Unit 6 Drawer 5