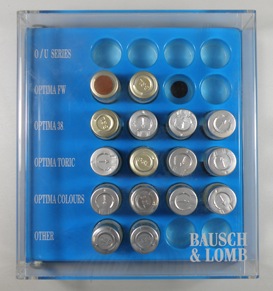 Bausch & Lomb Soft Contact Lens Trial Set
Category:
Spectacles and lenses
Sub-Category:
Contact lenses and accessories
Corporation:
Bausch & Lomb (Australia) Pty. Ltd.
Year Of Publication/Manufacture:
c 1994
Time Period:
1940 to 1999
Place Of Publication/Manufacture:
Australia
Publisher/Manufacturer:
Bausch & Lomb(Australia) Pty Ltd
Description Of Item:
Blue plastic base 180 x 193 x 53 mm with 24 circular recesses 23 mm in diameter, 25 mm deep containing 16 contact lens vials. Each row of four recesses is labelled individually with the words: O/U Series, Optima FW, Optima 38. Optima Toric, Optrima Colours and Other. A clear hinged plastic cover with the words 'Bausch & Lomb' in the bottom right hand corner encloses the base. Lens vials containing trial lenses of each category are arranged in the base. Expiry dates range from 10/97 to 01/2000.
Historical Significance:
Bausch & Lomb provided trial sets to practitioners to enable accurate fitting of daily wear long term lenses. The sets also contained samples of tints available in the Optima 38 series.
Location:
Archive room. West wall. Unit 6 Overhead display