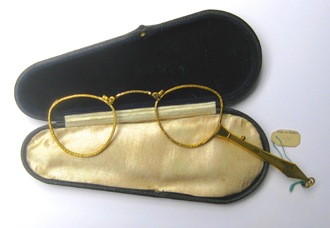 Gold alloy lorgnette with case
Category:
Spectacles and lenses
Year Of Publication/Manufacture:
c1970
Time Period:
1940 to 1999
Place Of Publication/Manufacture:
France
Description Of Item:
Gold alloy folding lorgnette, 110 x 44 mm, pantoscopic eye shape with C bridge spring loaded and hinged at one end for folding, with a release knob on handle, spear shaped handle with matte areas for decoration. Eye rims and bridge are decorated. Ring for attaching a chain or cord at the end of the handle. A tag is attached to this ring indicating the lorgnette was made in France and a pencil marking 55/u (?). Contained in original black fabric-covered hard case, 155 x 55 mm at one end and 35 mm at the other, with push button clip. The case is velvet lined, silver under the lid and black on the base. The item is contained in an optical wholesalers display case with other separately catalogued items donated from the same source.
How Acquired:
Donated by Colin Grahame, Melbourne optical wholesaler, ex the practice of Len Angior, Melbourne optometrist
Condition:
Good but left eye rim is out of shape
Location:
Archive Office. Cabinet One Drawer 4