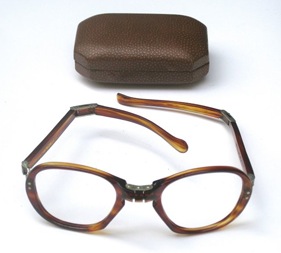 Harvette folding spectacle frame in case
Category:
Spectacles and lenses
Sub-Category:
Spectacles folding, scissors glasses
Time Period:
1940 to 1999
Place Of Publication/Manufacture:
Probably England
Description Of Item:
Folding spectacle frame, unglazed, hinged at bridge, joints and half way down sides to enable folding to a compact size, 68 x 40 mm when folded, to fit into a small fabric covered, metal snap case, 80 x 50 mm. Left and right sides marked HARVETTE Pat 357677. Frame is brown shell. Original case brown leather covered with brown velvet lining.
Historical Significance:
The British Patent 357677 was published on 01.10.1931. The applicant was Gerald Henry Wingate. On November 21, 1933 he was granted US Patent 1936319 for the same invention.He also patented prismatic spectacles for recumbent wearers (US2123682A).
How Acquired:
Donated by Colin Grahame, Melbourne optical wholesaler, ex the practice of Len Angior, Melbourne optometrist
Location:
Archive Office. Cabinet One Drawer 4