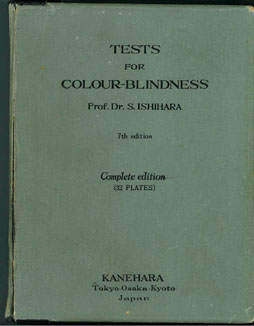 Tests for Colour-Blindness (Complete edition 32 plates)
Sub-Category:
Colour Vision Test
Designer/inventor:
ISHIHARA, Shinobu
Year Of Publication/Manufacture:
1936
Time Period:
1940 to 1999
Place Of Publication/Manufacture:
Tokyo, Japan
Publisher/Manufacturer:
Kanehara
Description Of Item:
Original grey cloth cover, 24 pages of text and 32 coloured plates being the tests for colour blindness. The text includes a photograph of Professor Ishihara and the text is in French and German as well as English. Slipped-in is (1) a reprint of an article by G H Giles on the clinical application of colour vision tests published in Aust J Optom May 25 1934 (2) a glossy black and white photo of Professor Ishihara (3) a folded note sheet with pencil notes to assist interpret the patient's responses and (4) a red plastic sheet 38 x 124 mm
Historical Significance:
Shinobu Ishihara (1879 to 1963) graduated in medicine in 1905 on a military scholarship and immediately joined the army as a doctor, serving mainly as a surgeon. He later changed to ophthalmology. In 1908 he returned to Tokyo University where he dedicated himself to ophthalmic research. In 1910 he became an instructor at the Army Medical College. There, in addition to seeing patients, he conducted research on 'battlefield ophthalmology' and how to select superior soldiers. In 1912 he went to Germany to further his studies in ophthalmology and in 1915, after the outbreak of war, he returned to Tokyo. There he worked as an instructor in the Military Medical School where he was asked to devise a test to screen military recruits for abnormalities of colour vision. His assistant was a colour blind physician who helped him test the plates. The first charts were hand painted by Ishihara in watercolours using hiragana symbols - the most 'Japanese' of the three Japanese scripts. Previous pseudoisochromatic plates existed (eg Stillings) but Ishihara's plates gave more reliable results. In 1917 he made a set using Arabic numerals called the 'International Edition' but few copies were sold. In 1922 Ishihara became a Professor at Tokyo University. In 1929 at the 13th International Congress of Ophthalmology in Holland the International Edition was recommended for testing naval personnel and air force pilots. In 1958 the 'Law of School Health' in Japan required that a colour blindness check be done as part of an overall health check on young school children. The Ishihara test was designated as the official test, and it achieved widespread use within Japan. Ishihara's charts are now the commonest screening test for colour vision anomalies.
How Acquired:
Donated by Ross Harris, Honorary life member of the College
Date Acquired:
23.06.2003
Location:
Archive room. East wall. Books of historical note