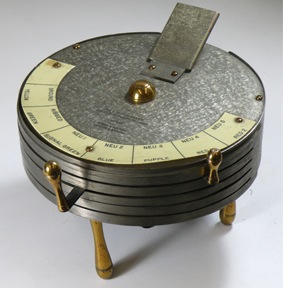 The Edridge-Green Colour Perception Lamp
Sub-Category:
Colour Vision Test
Designer/inventor:
Frederick William Edridge-Green
Year Of Publication/Manufacture:
c1910
Time Period:
1900 to 1939
Place Of Publication/Manufacture:
London, UK
Publisher/Manufacturer:
Curry & Paxton
Description Of Item:
Colour vision test lantern, horizontal pattern, with grey metal body on 3 brassed feet. 2 rotating discs: one to select colour: yellow, green, signal green, blue, purple, red 1 & red 2 and another disc for neutral density filters and ribbed and ground glass. Small disc below mirror has 6 differently sized apertures. Fitted for electrical illumination. Impressed: '58/ THE EDRIDGE-GREEN / COLOUR PERCEPTION LAMP/ PATENT/ CURRY & PAXTON/ LONDON & BRISTOL'. H:185mm X W:185mm x H:155mm. Later model is Cat No 430.
Historical Significance:
Dr Edridge-Green (1863-1953) was an ophthalmologist who wrote on colour vision and colour blindness, although his views were more driven by a sense of self-importance than matters of lasting significance (see Parsons JH Dr Edridge-Green's' Theories of Vision. Br J Ophthalmol 1920;4359-367). He devised his lantern test in 1891, when he was an advisor to the British Board of Trade, which at the time was struggling to get its colour vision testing of seafarers right. (See Cole BL and Vingrys AJ Lantern tests of color vision Amer J Optom Physiol Optics 1982;59:346-374). (See Cat 571). He devised it in the expectation that it would be adopted by the Board of Trade. It was not, and the Board of Trade decided to use the Holmgren Wool Test and later, in 1913, its own lantern test, much to Edridge-Green's chagrin, who expressed his displeasure in angry exchanges in Brit Med J in 1912 and 1914. This test was adopted however by the Royal Navy, the US Navy and several railway authorities. The original version of his test looked very different from this version which dates from the 1910s. The procedures for the test and how its results should be interpreted were never well defined (Edridge Green said he tested with it until he was certain of his diagnosis). It was superseded by the Board of Trade test of 1913, which became the Holmes Wright Type B lantern test in 1974. The Farnsworth lantern of 1946 became the favoured test in the USA. This design of the test was developed before 1911 and was manufactured by Reiner and Keeler Ltd c1910. See Fig 3 and 4 on pages 54 and 55 of Edridge-Green's book The Hunterian lectures on colour-vision and colour-blindness. London; Kegan Paul Trench and Co 1911 Kett Museum Cat No 182
How Acquired:
Purchased by Kett Museum
Condition:
Good. Legs bent, mirror loose.
Location:
Archive room. West wall. Unit 1 Drawer 5