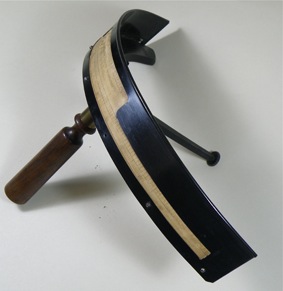 Keratoscopic arc or Strabismometer
Sub-Category:
Equipment, other clinical
Designer/inventor:
Louis de Wecker & Julien Masselon
Year Of Publication/Manufacture:
c1890
Place Of Publication/Manufacture:
Paris, France
Publisher/Manufacturer:
Bouzendroffer, Opticien
Description Of Item:
Hand-held instrument for objective assessment of strabismus. Timber arc with wooden handle and metal band attached which carries a paper label calibrated in degrees and imprinted 'STRABOMETRE DE WECKER ET MASSELON/ Bouzendroffer, Opticien-constructeur/ 130, Rue du Bac Paris' Small round pad to rest beneath fixating eye of subject is a backmarked nineteenth century Paris button. W:300mm x D:155mm x H:180mm.
Historical Significance:
Louis de Wecker (29 Sep 1832 - 24 Jan 1906) was a French ophthalmologist born in Frankfurt am Maim, Germany. Miche Julien Masselon (1844 - 1917), who was a French physician after whom Masselon or lid crutch spectacles were named, published several works with de Wecker. Bouzendroffer, opticians, were still listed in Paris directories in 1904. The 'Arc Keratoscopic' of de Wecker and Masselon was first detailed in 1884: de Wecker ,L and Masselon,J: Rev. clin. d'oeil 4:201-209 1884. It is reviewed in: Objective Strabismometry, Eaton,FB, Annals of Ophthalmology & Otology 1892 p216-220. Also in Tests & Studies of the Ocular Muscles, Maddox, EE, 1907, London p141. It is also detailed in a later, broader review: Objective Strabismometry in Young Children, Wheeler, MC et al, 1942, Trans Am Ophthal Soc Vol 40 pp547-564.
How Acquired:
Purchased by Kett Museum via eBay
Date Acquired:
March 2015
Condition:
Fair; incomplete, water damage to label, arc separated from rim at edge.
Location:
Archive room. West wall. Unit 4 Drawer 5